Monica Bellucci Joins The Sorcerer's Apprentice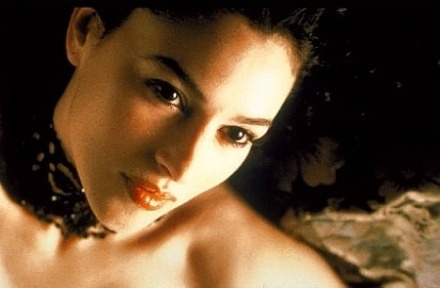 Usually an almost complete list of lead actors is announced before a film goes into production. Every so often you'll see an item in the trades announcing that so-and-so will be joining the cast of a film which just started shooting. But it's rare to be getting casting notices two months into production of a big Hollywood production. Monica Bellucci (Passion of the Christ, The Matrix Reloaded) has joined the cast of Jon Turteltaub's The Sorcerer's Apprentice.
Loosely adapted from the classic story from Fantasia, and based in modern-day Manhattan, Nicolas Cage plays Balthazar Blake, a sorcerer who recruits and trains a young protege (Jay Baruchel) to help fight the forces of darkness. Celebrity illusionist Drake Stone (Toby Kebbell) joins forces with an evil sorcerer named Horvath (Alfred Molina), to "gain ultimate powers." The film, which has been shooting in New York for the last two months, also features Teresa Palmer (Bedtime Stories) as Baruchel's love interest. Bellucci will play Veronica, a sorceress and the long-lost love of Cage's character.
The Sorcerer's Apprentice is set to hit theaters on July 16th 2010.
source: Variety