Rumor Killer: Steven Spielberg Is NOT Making An E.T. Sequel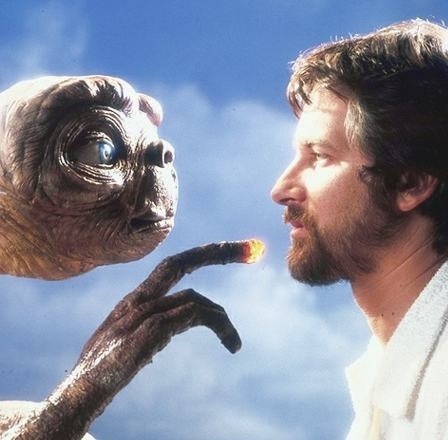 Is Steven Spielberg secretly developing a sequel to E.T.? The National Enquirer is reporting that Spielberg and actress Drew Barrymore have met to discuss the project, that would supposedly show E.T. returning to Earth to rejoin the now-adult Gertie. A source told the tabloid that "Steven and Drew are being very secretive about this baby. But they want to do this project and work together. Steven has an incredible story in mind for the sequel that will bring E.T. back to earth."
So is it true? Don't believe anything you read in the tabloids.
Speilberg has expressed disinterest in making a second E.T. film for the last two decades,  most recently this past month in Empire magazine, which the filmmaker guest edited. If you haven't bought the magazine yet, you definitely should. The letters to the editor section has Spielberg answering questions from everyone from Darren Aronofsky to Ben Stiller, from Bryan Singer to Wes Craven.
Eva Mendes asked is he "would ever make E.T. II" and joked that she "would fight Drew Barrymore for a part in it!" Spileberg responded that "Eva doesn't have to worry about a bout with Drew because I'm never going to make E.T. II — E.T. is a closed story. It had a beginning, middle, and a definite ending, and we had nowhere to take it except to go home with him. Nor did I want to bring him back to Earth for a second time."
So unless Spielberg came up with some great idea in the last 30 days, this isn't happening. Rumor killed.
Trivia: For a short moment Spielberg was interested in making an E.T. sequel. During the film's first theatrical run, Spielberg and screenwriter Melissa Mathison wrote a treatment for a sequel, titled E.T. II: Nocturnal Fears. The story involved Elliott and his friends, who are kidnapped by evil aliens and must contact E.T. for help. But thankfully Spielberg decided against developing the idea any further, reasoning that it "would do nothing but rob the original of its virginity."