Could Johnny Depp Be Martin Scorsese's Sinatra?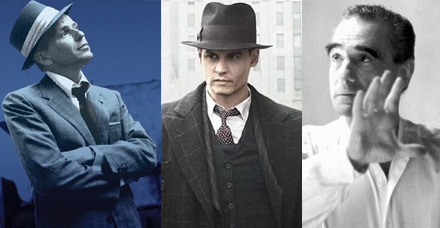 Yesterday it was announced that Martin Scorsese finally on board to direct a Frank Sinatra biopic titled Sinatra. Well guess what? The casting rumors have already begun. Nikki Finke claims that Johnny Depp is Universal's top choice to play old blue eyes. Depp and Scorsese have yet to work together, and this project seems to be a perfect fit.
According the Finke, it has already been determined that whoever is hired to play Frank will not be singing. Universal made a huge deal with the Sinatra Estate and Warner Music Group, which allows them to use any of Frank's original recordings. They might even have access to unreleased material like demos. Sinatra's daughter Tina, who is exec producing the film, has said that she would "trust Scorsese implicitly" to "present the truth" about her father, basically giving him free reign.
Phil Alden Robinson is writing the screenplay, titled simply Sinatra. Robinson is probably best known as the writer/director of Sneakers and Field of Dreams, which he was nominated for an Academy Award.Discuss: What do you think of the choice of Johnny Depp? Who should play Sinatra?