This Week In DVD: Taken, Underworld: Rise Of The Lycans, S. Darko: A Donnie Darko Tale, And More
We may receive a commission on purchases made from links.
This Week in DVD is a column that compiles all the latest info regarding new DVD releases, sales, and exclusive deals from stores including Target, Best Buy and Fry's.
Please don't take the commentary on the movies and TV shows too seriously, as they're meant not to be reviews but rather previews that include the general thoughts and ramblings of a twice-committed DVD addict. The categories represent solely the author's intentions towards the DVDs at hand, and are in no way meant to be a reflection on what he thinks other people should rent or buy. So if he ends up putting a movie you like in the "Skip it" section without having seen it, please keep in mind that the time you could spend leaving a spiteful but ultimately futile comment could instead be used for more pleasant things in life. Like buying DVDs.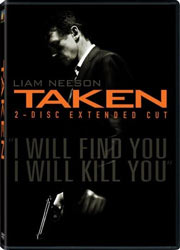 TAKEN(Available as single-disc Extended Cut and 2-Disc Extended Cut)
They just don't make movies like Taken anymore. It's as straight-forward a thriller as they come: bad guys kidnap girl, dad isn't happy about it, dad f**ks up the bad guys. But as this film proves, simplicity isn't always a bad thing. There aren't many things more rewarding in life than watching the always awesome Liam Neeson laying the smackdown on an endless array of evildoers. Combine that winning formula with director Pierre Morel's raw, visceral style and co-writer Luc Besson's to-the-point and totally badass screenplay, and you have yourself one of the most satisfying 90 minutes of ass-kicking goodness to come out in quite some time.
Blu-ray? Yes.Notable Extras: The single disc includes an extended cut of the film and no extra material. The 2-disc includes the extended cut, commentary with director Pierre Morel, writer Robert Mark Kamen, and cinematographers Michel Abramowicz and Michel Julienne, a making of featurette, an Avant Premiere feature, and a Inside Action: Side by Side Comparisons feature which looks at 6 different sequences.
BEST PRICE*
Target
Best Buy
Fry's
$16.99
$15.99
Amazon – $16.99
*Does not include 2-Disc Edition, which costs $22.99 at each of the listed stores (including Amazon).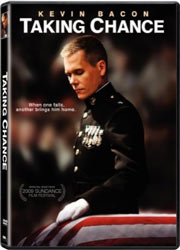 TAKING CHANCE
The most-watched HBO original in five years, Taking Chance tells the true story of a military escort officer (played by Kevin Bacon) accompanying the body of 19-year-old marine back to his hometown from the Iraq War. 'Stirring', 'emotional' tearjerkers like this don't really interest me much, but the reviews for the film have been mostly positive, so if movies like that appeal to you, don't hesitate to check it out.
Blu-ray? No.Notable Extras: A deleted scene and three featurettes.
BEST PRICE
Target
Best Buy
Fry's
$13.99
$14.99
Amazon – $13.99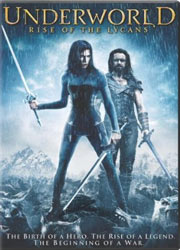 UNDERWORLD: RISE OF THE LYCANS
Just what I was hoping for—an unnecessary prequel to one of my biggest film disappointments of the past 10 years. But that's not all; they've also replaced the sole redeeming quality of the past two films: the tight-leather-wearing Kate Beckinsale. Did anybody out there ask for this film? Does anyone care about it in the slightest? Hopefully the answer to both of those questions is 'no', so this series can die a much-deserved death.
Blu-ray? Yes.Notable Extras: Filmmaker commentary and 3 featurettes ("Underworld: Rise of the Lycans – From Script to Screen", "The Origin of the Feud", "Re-Creating the Dark Ages – The Look of Underworld: Rise of the Lycans").
BEST PRICE
Target
Best Buy
Fry's
$16.99
$15.99
Amazon – $15.99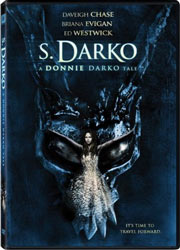 S. DARKO: A DONNIE DARKO TALE
Speaking of unnecessary sequels/prequels, this week we finally see the arrival of the much-maligned straight-to-DVD Donnie Darko sequel. If you had even the least bit of hope that this film might turn out decent, let this review confirm your worst fears. Not that you couldn't have already predicted that from the trailer. It looks as though somebody watched Donnie Darko, didn't understand a goddamn thing about it, and then decided to make a sequel including all of the weird elements from it without realizing that all of those details actually served a purpose in the original storyline.
Blu-ray? Yes.Notable Extras: Filmmaker commentary, deleted scenes, and 2 featurettes ("The Making of S. Darko", "Utah Too Much").
BEST PRICE
Target
Best Buy
Fry's
$19.99
$17.99
$14.99
Amazon – $19.99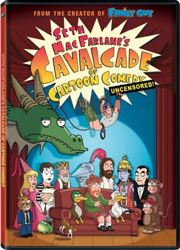 SETH MACFARLANE'S CAVALCADE OF CARTOON COMEDY
If you love Family Guy but wish you didn't have to sit through all that "plot" to get to the cutaway gags, you're in luck. Seth MacFarlane's Cavalcade of Cartoon Comedy is 50 minutes of nothing but those types of cutaway gags. The shorts were originally produced for YouTube, and you can check out a number of them here. Personally though, I'd rather gnaw off my own feet than watch 50 minutes of jokes like this.
Blu-ray? Yes.Notable Extras: Red carpet premiere featurette.
BEST PRICE
Target
Best Buy
Fry's
$12.99
$14.99
$12.99
Amazon – $15.99
Other noteworthy DVDs available this week...Passengers – Galaxy Quest (Deluxe Edition) – Personal Effects – Star Trek: Motion Picture Trilogy – Penn & Teller Bullsh*t (Season 6)