Preacher Update: Screenplay Is Half-Written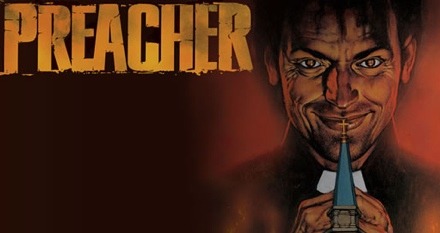 We have a brief update on the big screen adaptation of the beloved Vertigo comic book series Preacher. Last year Columbia Pictures picked up the rights and hired American Beauty/Road to Perdition director Sam Mendes attached to helm the project. In January it was announced that John August (Go, Big Fish) would be developing the script, but we haven't heard much since. Mendes tells MTV that the screeplay is "about halfway" written.
"There's a long way to go yet, but I'm very, very hopeful. I think it could be amazing."
Fans are hoping that the film might spawn a franchise as the 75 issue series offers enough story for at least three films. But Mendes is focused on making one really good self-contained movie, but admits that "there's certainly more than enough for one good movie and plenty left over." Even if this film does go into production, it won't happen anytime soon. The director tells Collider that he will be doing two more plays in Brooklyn first, and that he won't be doing his next movie until next year, at earliest.
Preacher has a long history of false starts, despite having a loyal following among geek filmmakers. Originally set-up at Kevin Smith's View Askew with a $25 million budget and James Marsden attached as the title character, the project fell into limbo and later found light as an HBO television series helmed by Mark Steven Johnson (fans were not happy about this one). When the one-hour series was first announced in November 2006, Pretty in Pink director Howard Deutch was named to helm the pilot episode. Robert Rodriguez was said to be one of the "many top-shelf directors interested in" directing an episode of the series. I have yet to read the series, but from what I understand, most fans saw it more as a television mini-series than a big screen movie.
The official plot synopsis from the graphic novel follows: "Here's a book guaranteed to offend a bunch of people, not only because of its profuse profanity and graphic violence, but because it's the epitome of iconoclasm. Like a brutal accident, you can't watch but you can't turn away. The story follows an ex-preacher man, Jesse, who has become disgusted with God's abandoning of His responsibilities. So Jesse starts off into the wilds of Texas with his hitman girlfriend and new best friend (a vampire) to find God so that he can give Him a piece of his mind. Despite its superficial perversity, this book contains what may be the most moral character in mainstream comics. A cult hit in the making. Fans of Quentin Tarantino take note."
The 75 issue comic book series was created by writer Garth Ennis and artist Steve Dillon, and published between 1995 to 2000.