Shutter Island And A Christmas Carol Posters Premiere At Cannes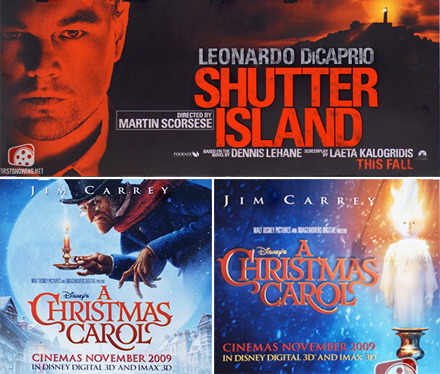 Our friends at FirstShowing are in France for the Cannes Film Festival, and have gotten a bunch of snapshots of some of the cool promotional posters for upcoming films. Above are the billboards for Martin Scorsese's Shutter Island starring Leonard Dicaprio, and Robert Zemeckis' performance capture 3D adaptation of A Christmas Carol, starring Jim Carrey.I'm really digging the redish-orange on black look of the Scorsese poster.
Head on over to FS to see art for Joel Schymacher's Twelve, Cotton, Chloe, And Soon The Darkness, The Army of Crime, and Peter Jackson's The Lovely Bones. I'm sure we'll see more promotional art coming out of Cannes in the next few days, so stay tuned.