VOTD: 1937 Warner Bros Blooper Reel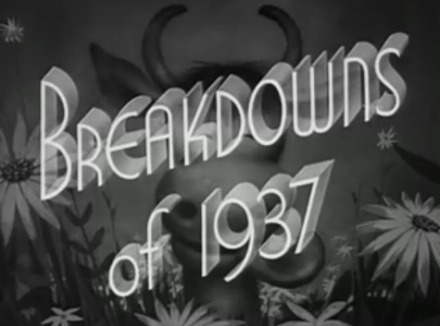 Almost every DVD features a blooper reel, containing all the outtakes from a particular film. Before DVD. Recently, Tropic Thunder released three full 10-minute mags of outtakes on DVD. But it wasn't always this way. I remember that in the age of VHS, ABC would host television specials a couple times a year featuring all the Hollywood bloopers. Back in the 1930's, Warner Bros would release a yearly collection of "Breakdowns," which would air between double features.
A while ago, Go Into The Story posted a Warner Bros Blooper Reel from 1937. It's amazing how different bloopers were back in the earlier days of Hollywood. The "Breakdowns of 1936" features Humphrey Bogart, George Brent, Bette Davis, Glenda Farrell, Errol Flynn, Dick Foran, Kay Francis, Hugh Herbert, Allen Jenkins, Boris Karloff, Barton MacLane, Pat O'Brien, Dick Powell, and Claude Rains. Watch the clip after the jump.