Stupid: Watchmen Blu-Ray Connects To Your Facebook Friends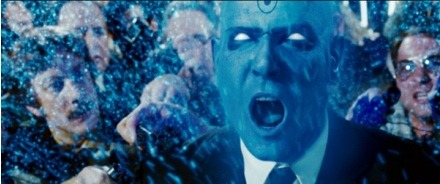 Warner Home Video has announced that Watchmen will be released on DVD and Blu-ray simultaneously in late July, either July 21st or July 28th, to coincide with San Diego Comic-Con International.
Warner Bros is really proud that the Director's Cut Blu-ray will include a feature which will allow you to view the film simultaneously and share comments with your Facebook friends. It might have been cool if you could somehow host a screening online for your friends, but everyone needs to own the Blu-ray for the "viewing party" to work. And Hollywood wonders why Blu-Ray isn't selling as well as they had hoped.
Lets get some better features people! Is Disney the only company that kinda gets it? I have yet to meet anyone who has actually recorded or watched one of the home-recorded blu-ray live commentary tracks. The whole thing seems rather pointless. Lets get some cool interactive content.
The theatrical version of the movie will be released on a standard DVD with no bonus features ($28.98 msrp). The director's cut will be available in both DVD ($34.99msrp) and Blu-ray ($35.99 msrp). It's previously been reported that an Ultimate Edition will be released later this fall in time for Christmas, which will incorporate the Black Freighter and the comic book stand ins and outs.
source: THR