Gamer Movie Trailer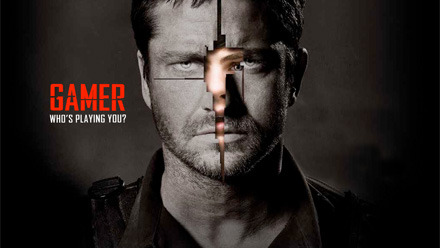 Lionsgate has premiered the official U.S. trailer for Gamer on XBox Live (is this the first movie to ever premiere a trailer on a video game console? Possibly) The trailer has found its way online. Gamer (previously titled Game) is the new film from Crank madmen, Mark Neveldine and Brian Taylor.
The story takes us to the sci-fi future world where prisoners do battle in a real life video game. A test screening was held in October, and you can read our Early Buzz report for the full scoop. It looks like a fun crazy-concept sci-fi film from the 1980's. Watch the trailer embedded after the jump, remember to hit the HQ button to see high quality video, and leave your thoughts in the comments below.
[Dave's note: I believe the song used in the trailer is Marilyn Manson's cover of "Sweet Dreams," a song originally made popular by Eurythmics. Not the first song I would think of to use, but I think it's employed to great effect!]
Official plot synopsis: Gamer is a high-concept action thriller set in the near future, a time when mind-control technology has taken society by storm. Humans control other humans in a mass-scale, multiplayer online game. Reclusive billionaire Ken Castle (Michael C. Hall) has created the controversial form of entertainment, "Slayers," a hugely popular game that allows millions to act out their innermost fantasies and desires – online – in front of a global audience. Gaming has evolved into a terrifying new dimension... mind control... mind manipulation... people playing people!
At the center is Kable (Gerard Butler), the superstar and cult hero of "Slayers," the savage, ultra-violent first-person shooter game. Kable is controlled by Simon, a young gamer with a rock star status who continues to defy all odds by guiding Kable to victory each week. Taken from his family, imprisoned and forced to fight against his will, the modern day gladiator must survive long enough to escape the game to free his family, regain his identity, and to save mankind from Castle's ruthless technology.
Milo Ventimiglia, Alison Lohman, John Leguizama, Efren Ramirez, Terry Crews, Kyra Sedwick, Zoe Bell and Ludacris co-star.
Gamer is currently scheduled for a September 4th, 2009 release.