Box Office: Abrams' Star Trek Goes Where No Trek Has Gone Before: $33M In 29 Hours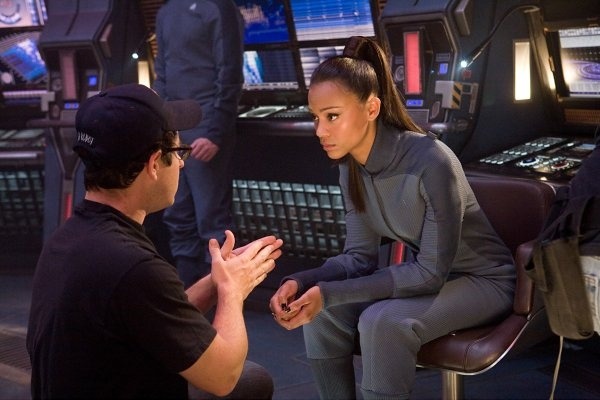 Rebooting Bond with Daniel Craig was Bold. Christopher Nolan's Reinvention of Batman was genius. But some thought it was overly-ambitious, even audacious, to attempt to restart the Star Trek franchise. It has begun to pay off already for Paramount Pictures, and there will dividends for years to come.
J.J. Abrams is officially the Lazarus of movie directors as his all-new Star Trek has gone "Boldly Gone Where No Star Trek Movie has Gone Before." With a cast of relative unknowns, the 42-year-old has resurrected a franchise that had been killed by insular "nerdyness" and timid imagination. The Gene Rodenberry creation didn't so much bomb as it died slowly over a period of years. First, the 2002 movie Star Trek: Nemesis starring the Next Generation cast disappointed with a meager $43.3M domestic. Then, the final TV series Enterprise, which starred Scott Bakula, was not embraced by core fans or broader audiences and was canceled after four seasons, ending May 13, 2005.
Now riding a staggering 96% Fresh score on Rotten Tomatoes – that's 96% of America's movie critics issuing positive reviews – The Enterprise is riding high again thanks to the creator of TV hits Alias and Lost. Try getting 96% of any group to agree on anything. It's no small feat. Compare Star Trek's RT score against the ratings for the last 5 Best Picture winners.
ROTTEN TOMATOES SCORES FOR THE LAST 5 OSCAR WINNERS
2004 – Million Dollar Baby – 91% Fresh
2005 – Crash – 75% Fresh
2006 – The Departed – 92% Fresh
2007 – No Country For Old Men – 94% Fresh
2008 – Slumdog Millionaire – 94% Fresh
With the ringing endorsement of tough-to-please critics, Star Trek hit warp speed at the box office last night with lightly-promoted preview screenings starting at 7pm. The impeccably-reviewed feature film seized an estimated $7M or so in Thursday night ticket sales. The idea may have been to get some of the hardcore Trekkies and Trekkers out of the way, clearing multiplexes for mainstream movie audiences today, and they have showed up in massive numbers.
With Chris Pine (Bottle Shock) in the legendary role of Captain Kirk and Zachary Quinto (NBC's Heroes) wearing the pointy ears made famous by Leonard Nimoy, Star Trek has soared to a history-making $26M on its official opening day, double the previous-best opening day for any movie in the franchise. That means in the first 29 hours of general release, the re-imagined sci-fi blockbuster has delivered an estimated $33M.
ALL-TIME TOP 5 OPENING DAYS FOR STAR TREK MOVIES
1. Star Trek (2009) – $26M [$33M in its first 29 hours]
2. Star Trek: First Contact (1996) – $13M
3. Star Trek: Generations (1994) – $9.7M
4. Star Trek: Insurrection (1998) – $9.5M
5. Star Trek: Nemesis (2002) – $7.7M
How will the weekend play out? The Thursday night preview screenings will probably make Star Trek a bit less front-loaded. In fact, I'm guessing that, based on word-of-mouth and its family-friendly PG-13 rating, the movie gets a 5% boost on Saturday to a possible $27.3M, followed by an aggressive Mother's Day drop of 40% on Sunday. That would mean a 4-day gross of almost $77M or so.
The great news for Paramount and Abrams and Pine and Quinto and the rest of the cast is that Star Trek will almost certainly have the best legs of any of this summer's major tent-pole movies. Rank-and-file moviegoers are likely to discover Star Trek for the first time in coming weeks or, now that Trek is cool again, it may rekindle interest with core fans who rejected the most recent incarnations.
It will not be a surprise to see Star Trek sail past $200M. After all, 2005's Batman Begins performed that way. The Christopher Nolan Batman reboot opened on a Wednesday with $15M and had banked $72.9M in 5 days. Based on that movie's Friday-thru-Sunday of $48.7M, the first Batman movie in 8 years reached its $205M domestic total at a 4.2 multiple (4.2 X $48.7 got Nolan's original to $205M). Anticipating a 4.2 multiple for Star Trek is probably overreaching, but a 3.4-3.5 multiple is possible. That would propel Abrams and company to well past $200M.
X-Men Origins: Wolverine (Fox) took a big tumble as expected. The Hugh Jackman X-Men spin-off only mustered $9.15M or so on its second Friday, but it will still likely top $30M for the weekend, down about 65%. Meanwhile, Ghosts of Girlfriends Past (Warner Bros) coaxed about $3M to start the frame, and it will likely be helped by Mother's Day, grabbing a possible $10M, down a mere 35% from last weekend.
Obsessed, the low budget sizzler from Sony Screen Gems, continues to outperform its low expectations with $2M on Friday, which pushes the Beyonce catfight flick past $50M. The thriller should finish the 3-day with about $6.25M and a spectacular $55.89M by Monday.
The urban-geared comedy Next Day Air (Summit) got off to a disappointing start with just $1.25M (likely #5 for the day), and it will drift down the top ten to as low as #8 for the weekend with a meager $3.55M or so from its thousand or so playdates.
The Zac Efron comedy 17 Again (Warner Bros) will likely spend another weekend in the top five with about $1.15M on Friday and about $3.7M for 3 days. That will give the Efron vehicle a new domestic cume of about $53.5M.
EXCLUSIVE STEVE MASON EARLY FRIDAY ESTIMATES
1. NEW – Star Trek (Paramount) – $26M, $6,755 PTA, $33M
2. X-Men Origins: Wolverine (Fox) – $9.15M, $2,231 PTA, $111.77M cume
3. Ghosts of Girlfriends Past (Warner Bros) – $3.05M, $961 PTA, $22.84M
4. Obsessed (Sony) – $2M, $769 PTA, $51.64M cume
5. NEW – Next Day Air (Summit) – $1.25M, $1,098 PTA, $1.25M  cume
6. 17 Again (Warner Bros) – $1.15M, $396 PTA, $50.91M cume
7. The Soloist (Dreamworks/Paramount) – $1M, $478 PTA, $20.89M cume
8. Monsters vs. Aliens (Dreamworks/Paramount) – $847,000, $388 PTA, $184.36M cume
9. Earth (Disney) – $697,000, $389 PTA, $24.29M cume
10. Hannah Montana: The Movie (Disney) – $690,000, $300 PTA, $72.35M cume
EXCLUSIVE STEVE MASON EARLY 3-DAY ESTIMATES
1. NEW – Star Trek (Paramount) – $69.68M, $18,103 PTA, $76.68M
2. X-Men Origins: Wolverine (Fox) – $30.05M, $7,326 PTA, $132.67M cume
3. Ghosts of Girlfriends Past (Warner Bros) – $10.06M, $3,170 PTA, $29.86M
4. Obsessed (Sony) – $6.25M, $2,402 PTA, $55.89M cume
5. 17 Again (Warner Bros) – $3.73M, $1,287 PTA, $53.49M cume
6. Monsters vs. Aliens (Dreamworks/Paramount) – $3.72M, $1,706 PTA, $187.24M cume
8. NEW – Next Day Air (Summit) – $3.55M, $3,120 PTA, $3.55M  cume
9. Hannah Montana: The Movie (Disney) – $2.62M, $1,140 PTA, $74.29M cume
10. Earth (Disney) – $2.44M, $1,361 PTA, $26.03M cume