Darren Lynn Bousman To Remake Troma's Mother's Day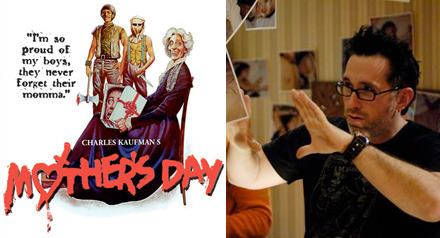 Saw series helmer Darren Lynn Bousman will direct a remake of the 1980 Troma cult classic exploitation slasher film Mother's Day. You might remember, Bousman told Brendon at Frightfest that his next film would be Mother's Day. Well now it's official.
The original Charles Kaufman film told the story of three women who go on a camping trip and encounter two brothers who rape and kill to impress their deranged mother. The Scott Milam-scripted remake sees the messed-up family return to their childhood home to terrorize the new owners and their guests.
"She lost her house, and her boys are going to get it back to her," producer Richard Saperstein tells THR. Apparently the plan is to set this home invasion in a very realistic setting, with the "high-concept overlay" of "this punishing maternal figure." I know a lot of people like to write-off the Saw films as nothing more than torture-porn, but I've always believed that Bousman has a great visual eye. He sometimes becomes hampered by MTV-style editing, but I'm interested to see what he can do with a project set in a more realistic tone.
The original film was made on a very low budget of only $150,000, and wasn't well received at the time of its release. The movie gained a cult following on home video, and to this day is still banned in the UK. And if you're wondering, yes, Charles Kaufman is the brother of Troma Entertainment co-founder and Toxic Avenger director Lloyd Kaufman. The remake is aiming to begin production in July with Mother's Day 2010 release (of course).