Cool Stuff: Lasseter Family Wines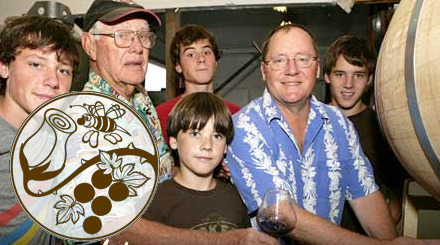 Did you know: Academy Award winning animation director and Disney/Pixar cheif creative officer John Lasseter owns a Sonoma Valley winery? Lasseter bought the 27 acre Justi Creek Vinyard in 2002, embarking on a environmentally sensitive restoration the historic property and converting the vineyard exclusively to organic farming practices.
The Lasseter Family Winery is now open for business, offering three wines: Syrah Rose, Rhone Style Red Blend, and St. Emilion Red Blend. The Lasseter Family Winery logo features the character Wally B, which some of you animation nuts might remember from the 1984 LucasFilm computer animated short The Adventures of Andre and Wally B. Bottles range from $20 to $40, which isn't that bad, and would certainly make a good gift for a hardcore Disney or Pixar fanatic.
I mean, who wouldn't want a bottle of wine crafted by the guy that brought us Toy Story and returned hand drawn animation to Walt Disney Animation Studios?
Cool Stuff is a daily feature of slashfilm.com. Know of any geekarific creations or cool products which should be featured on Cool Stuff? E-Mail us at orfilms@gmail.com.

via: PixarTouch