Box Office Tracking: Star Trek Could Reach $65M For 4 Days! Easily Biggest Trek Opening Ever!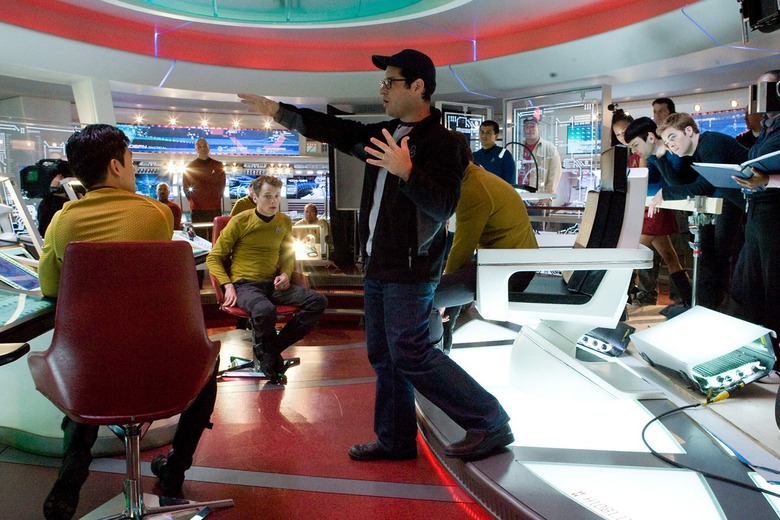 The all-new J.J. Abrams reboot of Star Trek (Paramount) will win the second weekend of the Hollywood Summer Box Office season by at least a couple of light years over Fox's fast-fading X-Men Origins: Wolverine, but some of the astronomical numbers I've seen floating around in the blogosphere are very over-heated. Make no mistake, this movie will open extraordinarily well, but it's not going to play out as a typical front-loaded blockbuster. Moviegoers need time to shake off the disappointment of the final TV series Enterprise (starring Scott Bakula and canceled after four seasons) and the disastrous 2002 final film Star Trek: Nemesis ($43.3M domestic). It will take time for a new generation of fans to discover the magic of Gene Rodenberry's vision of the future through Abrams' magical lens.
As of Wednesday night, Star Trek is cruising with 94% Fresh (positive) reviews on Rotten Tomatoes, and critics are slinging some seriously glowing hyperbole.
"Paced at warp speed with spectacular action sequences rendered brilliantly and with a cast so expert that all the familiar characters are instantly identifiable, the film gives Paramount Pictures a new lease of life on its franchise."
– Ray Bennett, HOLLYWOOD REPORTER
"It's an exciting, stellar-yet-earthy blast that successfully blends the hip and the classic."
– Joe Neumaier, NEW YORK DAILY NEWS
"Trading on affections sustained over 40 years of popular culture, STAR TREK does what a franchise reboot rarely does. It reminds us why we loved these characters in the first place."
– Ty Burr, BOSTON GLOBE
"Blasting onto the screen at warp speed and remaining there for two hours, the new and improved STAR TREK will transport fans to sci-fi nirvana."
– Todd McCarthy, VARIETY
Let's be honest. Prior to what, by all accounts, is Abrams' full-on Lazarus-style resurrection of Kirk, Spock and The Enterprise, Star Trek was dead. Worse than dead, it has been considered "uncool." That's what Paramount is fighting in the marketplace, and realistically, even in its peak as a movie franchise, it wasn't a powerhouse.
The biggest opening weekend for a Star Trek movie was 1996's Star Trek: First Contact with $30.7M and the top grossing title ever was Star Trek IV: The Voyage Home (with that ridiculous humpback whale storyline), which surpassed $109M. Consider this. Here are the top five opening days for movies in the Star Trek franchise.
ALL-TIME TOP 5 OPENING DAYS FOR STAR TREK MOVIES
1. Star Trek: First Contact (1996) – $13M
2. Star Trek: Generations (1994) – $9.7M
3. Star Trek: Insurrection (1998) – $9.5M
4. Star Trek: Nemesis (2002) – $7.7M
5. Star Trek IV: The Voyage Home (1986) – $7M
When journeyman actor Robert Pine, best known for playing Sgt. Joe Getraer on the late 70's TV hit ChiPs, appeared as an Akritirian Ambassador named Liria on the series Star Trek Voyager (the TV series with Kate Mulgrew as Captain), he could have never imagined that his son Chris would someday play Captain Kirk, but the 28-year-old is now in the Trek's most pivotal role. He was excellent in a little movie called Bottle Shock last year, but aside from that, and roles in The Princess Diaries 2 and Smokin' Aces, he is basically an unknown.
In fact, the new Star Trek is filled with actors who are more-or-less unknown. Simon Pegg, the brilliant UK star of Shaun of the Dead and Hot Fuzz and cast as the colorful Scotty here, is probably the biggest name in the cast along with John Cho from the Harold & Kumar movies, playing Sulu. But these are all talented actors who will wear well as the franchise turns into a steady hit machine for Paramount. Fans of NBC's Heroes already know Zachary Quinto who gets to don Spock's pointy ears and Chekov is being portrayed by one of my favorite young actors, 20-year-old Anton Yelchin, who was heartbreaking in the gritty Alpha Dog and showed a lighter touch in Charlie Bartlett. Trekkers are also likely to take to the sexy Zoe Saldana (Drumline, Guess Who?) who steps into Nichelle Nichols' shoes as Uhura and will appear in James Cameron's long-awaited Avatar at the end of the year.
The appropriate movie to look to for box office guidance is 2005's Batman Begins. Great filmmaker (Christopher Nolan), spectacular reviews, but the franchise was dead and uncool after 1997's ridiculous Batman & Robin. The reboot 8 years later opened on a Wednesday with $15M and had banked $72.9M in 5 days (the Friday-thru-Sunday was $48.7M). That lays the groundwork for an accurate prediction for Star Trek.
My bet is on a possible $65M for 4 days. With Thursday preview screenings starting at 7pm, Star Trek could snag as much as $8M on Thursday night (the Trekkers will be out in full force). Then Friday could be something in the $20.5M range with a slight uptick of 5% on Saturday to a possible $21.6M followed by a standard 30% Sunday drop to about $15M.
Once audiences realize that Star Trek is light year better than previous movies in the franchise (and last weekend's Wolverine), the picture will play and play and play. I think that, of all of the major studio releases this summer, Star Trek may have the "longest legs." If the movie opens within 5% of my number or bigger, the multiple (the number by which you multiply the opening weekend in order to arrive at the final domestic gross) could be 3.4-3.5, which would push J.J. Abrams reinvented Rodenberry opus to something in the $220M-$230M range.
I am anticipating a steep drop of 65%-70% for X-Men Origins: Wolverine, and producer/star Hugh Jackman will be forced to settle for a second weekend of $27M-$30M. That would still be a nifty 10-day gross of $130M or so.
Finally, Next Day Air (Summit), a low budget, R-rated urban comedy starring Donald Faison (Scrubs), Mike Epps (Welcome Home Roscoe Jenkins), Wood Harris (The Wire) and Mos Def (Cadillac Records), will open in the shadow of the retooled U.S.S. Enterprise and is unlikely to wrap up the weekend with any more than $6M.
FINAL PREDICTIONS FOR THE WEEKEND OF MAY 8-10
1. NEW – Star Trek (Paramount) – $65M (includes Thursday previews)
2. X-Men Origins: Wolverine (Fox) – $30.6M
3. Ghosts of Girlfriends Past (Warner Bros) – $8.8M
4. Obsessed (Sony) – $6.7M
5. NEW – Next Day Air (Summit) – $6M
6. 17 Again (Warner Bros) – $3.8M
7. Monsters vs. Aliens (Dreamworks/Paramount) – $3.7M
8. The Soloist (Dreamworks/Paramount) – $3.3M
9. Hannah Montana The Movie (Disney) – $2.6M
10. Earth (Disney) – $2.4M