Robert Rodriguez Turned Down $70 Million Budget For Barbarella Because Of His Kids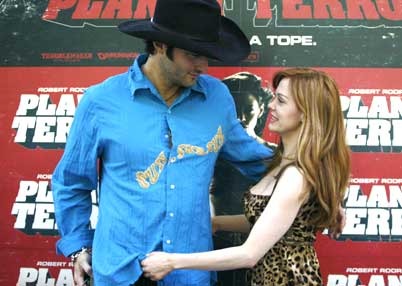 Some will be sad, some will rejoice, others still will shrug but Robert Rodriguez and Rose McGowan's proposed Barbarella is, according to the man himself, dead. Talking to MTV, the director has revealed that he turned down $70 million in finance because of a tricky little clause in the small print.
The money would have come from a German company and they were requesting he shoot and carry out post in Germany too. He says:
Nothing against Germany, but I have five kids and I was like, 'God, I don't know if we can do that. I don't know if I can be away that long.'
I can understand this, completely. There was an option to take his kids to Germany too, I suppose, but that wouldn't necessarily be fair on them either. Or... the other version of events might be true – those old rumors about Rodriguez and McGowan splitting up and that scuppering the movie. Though I don't know why he'd not just make the film with another star....?
Of course, now the project is stone cold he's still talking it up and, perversely, making it sound more appealing than ever. What does he want? Universal to come running back – they were on board before the Germans – checkbook in hand?
People said, 'Why are you doing Barbarella? And I showed them the artwork and explained it. They would go, 'Ooooh, okay!'
Rodriguez completed a great deal of concept art and screen tests that showed his approach to the film, and some of which he hopes to someday share. It was, apparently, inspired by the look of Metal Hurlant, or Heavy Metal – previously cited as inspiration by Ridley Scott on both Alien and Blade Runner, so it has a fine pedigree in sci-fi it inspired.
Indeed, it seems like Barbarella was devised to be an ersatz Heavy Metal adaptation and only Barbarella as a means to that end:
After Sin City, I was looking through all my comic collection to see, 'Well, what else might I make?' The only other thing that I had tons of were Heavy Metal magazines. I said, 'I wanna make a Heavy Metal movie!' And Barbarella fit the bill because you could have everything in that movie.
There's ongoing talk of a new Heavy Metal picture, with Zack Snyder and David Fincher amongst the attached directors. Will they let Rodriguez on their merry go round too? Or will he just have to find another kitchen sink project he can "have everything" in?