Interview: Ryan Hansen On Party Down, Lame L.A. Bands, Kristen Bell, Gossip Girl, And Crystal Lake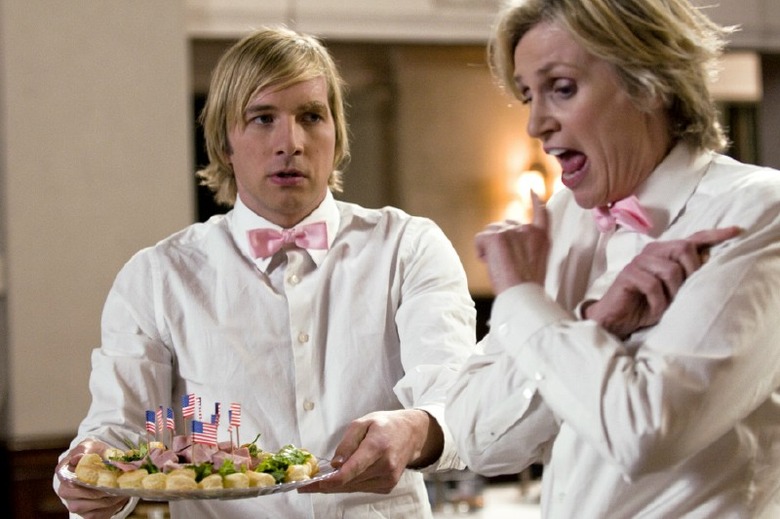 With each new episode, Party Down distinguishes itself as one of the funniest and lewdest shows on TV, and one of the coolest that many viewers have not yet seen. Last week, we had a great chat with Martin Starr, and this week we have an interview with Ryan Hansen (Veronica Mars). As Kyle Bradway—an aspiring model, actor, rockstar, and server of cocktail weenies—Hansen plays the kind of pink and stoned specimen that is hyper-thriving in Hollywood circa 2009.
Like the other primary characters on Party Down, Kyle is employed at the titular L.A. catering service awaiting the big call. The irony is that as the careers of everyone else fizzle (Adam Scott's Henry) or zombify (Jane Lynch's Constance), Kyle surfs up the audition ladder on fresh-faced sex appeal. This pisses off his co-worker, the disgruntled, utterly weird screenwriter Roman (Starr), to no end. And in tapping the rude camaraderie between the two, Party Down and Starz may have already struck a tidy mine of black gold.
As exhibited below, some of the bubbly chemistry is actually just Hansen and Starr—characteristically eavesdropping?—nagging each other IRL. Other topics discussed include Party Down's myriad connections to Veronica Mars: both shows were created by Rob Thomas and Kristen Bell makes a profane appearance later this season. Hansen also talks about getting shot in the head by the latest incarnation of Jason Voorhees.
Ryan Hansen: Hey Hunter. How are you doing, bro?/Film: I'm fine. Summer is finally here. So, you're in Israel right now, eh?Ryan: I am in Israel, yes...wait...did Martin say this? Did Martin say that? [laughs]See, I thought the publicist said it as you were getting on, but maybe it was Martin pretending to be her? [laughs] Man. Somebody said it.Ryan: [laughs] Dude. Israel? I'm in Oklahoma right now. Oklahoma. I love it. I might as well be in Israel. Just hanging out here in Israel. [laughs][laughs] Okay. Jerky Boys? So, congrats on being a part of the show. I definitely think this is one of the coolest ensemble casts on TV right now...Ryan: Thanks dude, thanks. It feels really good. It feels so awesome to be a part of it. I'm lucky to be in the mix, you know? Like, Adam, Jane, Ken [Marino], Lizzy [Caplan], Martin, they have all been around for a while. So, I've learned a ton as far as improv already. I hope more people will start watching it. I feel like it's catching on.I think so too. Looking at the cast, I was wondering if you have a comedic background?Ryan: Um, I'm just naturally super-funny. No, not really. I've never been in the Groundlings or anything. I'm just around funny people a lot, and I just find myself liking them? [laughs] I dunno. I was on Veronica Mars, I played a Dick [Casablancas]. That was funny.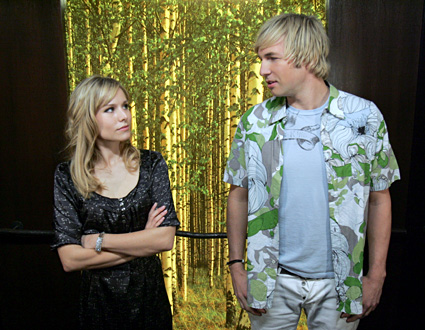 Right. And that's what you notice with the cast: Martin was on Freaks and so was Lizzy. But you and Ken were on Veronica Mars. Jane appeared on that show briefly. And Party Down was created by [Veronica Mars creator] Rob Thomas. So, how did this show come together? Martin said Rob was pitching it around for three or so years. Did he just call you up to join? Was it that simple?Ryan: Yeah. So, the third season of Veronica Mars had wrapped up and we didn't know if it would get picked up for another. I was off traveling for a little bit—and I think I was in Rome—I got an email from Rob about the pilot [for what became Party Down]. I was like, dude that's frickin' awesome. So cool. So I get back, we shoot it at his house, like a rag-tag group, small crew. A year later, Rob calls me up and says it's been picked up by Starz. And at that point Lizzy and Martin became attached. That's really how it worked out.And Kristen Bell is in the final episode...Ryan: Yeah. For sure. She plays a head caterer of a rival catering company, and she plays a bitch, so they totally typecasted her. She's really funny, and small. She's a petite one. She's my bud.Cool. I guess we can't reveal much more. Your character is the most oblivious dude on the catering team. It's a bit hard to figure out what percentage of Kyle is stoned, dumb, and what percentage is simply coasting inside "the bubble," to lift from 30 Rock.Ryan: Yeah, Kyle is super air-heady. He's new to Hollywood, so he's also really naïve and just excited to be there. And then, for sure, there's a lot of stoner-ness. You're definitely right. [laughs] I agree.Do you agree that Kyle represents a trending in the business? He represents a certain, uh, type of actor? For instance, in one episode Adam's character says that Kyle is in "the overall handsome business."Ryan: This character is definitely making fun of a lot of actors out there. [laughs] And it's even making fun of myself a bit. There are a lot of people in Los Angeles right now who are just good looking and can get by. And, yeah, we all know that some of them will and do; they go on to have successful careers. But, see I think Kyle thinks he's that guy, but he's not. I think the show is taking a funny jab at the industry and at these dudes who love to model and are "in a band."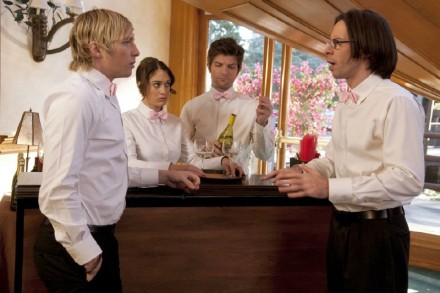 I love that Martin's character, Roman, has this "distinguished blog." He's always talking it up to drunk L.A. girls to no avail. And then Kyle has a band called Karma Rocket that probably gets him laid on the reg. We haven't seen either yet though. A Karma Rocket concert needs to happen...Ryan: Dude, I hope so. [laughs] Karma Rocket has to play a bar mitzvah or something. Season two? We have to do that. We've heard rumors that there will be another season, and I just hope everyone can come back for it. Like you said, it's a pretty badass cast. And I love what Roman and Kyle have. They bicker like brothers. And I think Roman [Martin Starr] hates him because maybe Kyle has a shot at getting a pilot. Out of all of the characters, Kyle has the best shot. But Martin is always hitting me, he's very physical with me, and he hurts me...[Apparently Martin has been listening in the entire time, not unlike Roman's style on the show]Martin: PUSSY.Ryan: What a dick. You know, he's listening in right now...Martin: PUSSY.[Ryan tells Martin to stop.]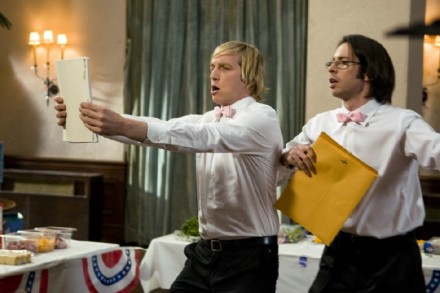 How much of the show is improv? [laughing at Martin]Ryan: A lot of it. But Martin reads off of cue cards, he reads off of a frickin' teleprompter...[laughs] I also think it's cool that Party Down has so many cameos, but it's also the anti-Entourage. It's actually funny and well-written. Do you feel like this is an accurate depiction of Los Angeles right now?Ryan: It's definitely the more realistic version of Hollywood. You know, it's like, how many people out there are actually working...doing the movie star thing? Our show definitely captures the realistic side of what people have to go through, in order to make it in L.A. and do their dream. It's realistic, definitely, but it's also very depressing. This is very depressing comedy. [laughs] Which is funny...It's great for that reason. And if a second season happens... [laughs] These characters are already so jaded about catering, so a second season not only brings more parties for them to work, but more lame costumes and outfits for them to wear. It's going to get so dark...Ryan: I know. It is going in that direction. I'm really curious to see how the writers deal with it...But your character is like the resident stud. Is he going to end up banging Jennifer Coolidge's character later in the season?Ryan: [laughs] No, he won't be Stifler. Kyle is a wannabe stud...Would you categorize what went down between you and Joey Lauren Adams on the show as a sex scene?Ryan: Yeah, see, I saw [that] cut together and it does look like we're having the sex. But I don't know. I don't know if my character was actually present during the scene because Kyle was in so much pain at the time...which I can relate to...I've had sex in pain.I'm sorry? [laughs]Ryan: Man, that was weird. [laughs] Yeah. Let's just call that a "sexy scene."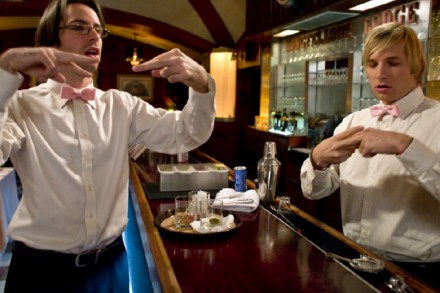 Sure. For the record. So, you were in Friday the 13th...Ryan: [laughs] Yeah I was. That came out. That was cool...Did you get hacked to death? Honestly, I saw the movie but, as a F13th fan, I have...Ryan: Yeah, I'm in it for five minutes, that's probably why you don't remember. I get the arrow through the head. I drive the boat on the lake, and I get whacked. Willa Ford is wakeboarding topless behind me, in all of her horror-film-glory. So, I'm in it for five seconds. But I got to hang out in Austin, it was a great time...Was that your first death? That's a good way to go out...Ryan: Arrow through the head. Yeah. Who knew Jason was such an excellent marksmen? [laughs] 300-yards-a-way on a moving boat.Yeah. He was like Rambo in that movie. Crystal Lake's grassy knoll. ...Are you currently filming anything else?Ryan: Yeah. I have this Gossip Girl spin-off I'm doing, like a spin-off prequel. I know. It airs on May 11th. I play a punk rocker kid.What kind of punk rocker. Mall punk?Ryan: Like a Valley scenester kid in the '80s. I have, like, a dangly earring and the bouffant and the tight pants. It's pretty great.Congrats on Party Down. It's awesome.Party Down airs on Starz on Fridays at 10:30 p.m. ET/PT. A few episodes are now available for streaming online in full. The show is also a recent addition to Netflix's Watch Instantly.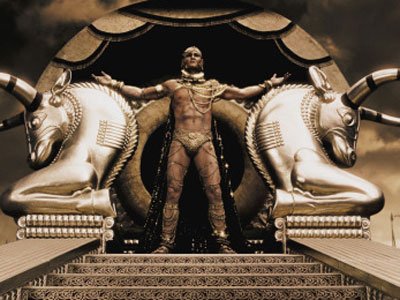 Bonus: Here is a joke that Ryan plays on Martin in the seventh episode that may come in handy: In front of a group, profess that you know a trick and can guess a specific number inside someone's head. Next, in front of the group, have an insecure guy write down the number of times he has watched the movie 300. Have the guy fold the piece of paper and hand it to someone else in the group. Next, loudly proclaim that the trick was itself a trick. Clearly, any guy who has seen the movie 300 more than once is a homosexual. If the paper reads more than "1," laugh obnoxiously at his expense and collectively say, "Gay!"Hunter Stephenson can be reached at gmail: h.attila and on Twitter.