Rumor Killer: The Rock NOT Cast In 20,000 Leagues Under The Sea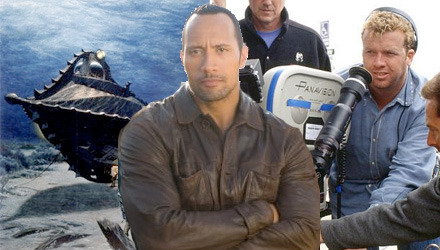 Update: McG has denied reports of Johnson's casting to SciFi: "I've never spoken to Dwayne Johnson about this. I like him. He's great. He's a wonderful human being and an excellent screen presence, but we have not spoken about 20,000 Leagues Under the Sea. Not a word."
After it was first announced that McG would be developing 20,000 Leagues Under the Sea: Captain Nemo for Disney, the filmmaker went on to tell everyone that he wanted to cast Will Smith as the film's title character. Production Weekly reported over the weekend a rumor that Dwayne "The Rock" Johnson has been cast in the project instead of Smith. Johnson has a great relationship with the mouse house, and possibly even a multi-picture deal, so if the rumor were true, it completely makes sense.
Disney hopes to make the film later this year in Australia, and McG is slotting it as his next. Geek screenwriter Justin Marks (Masters of the Universe, Super Max) was recently hired by Disney to rewrite Bill Marsilli's (Deja Vu) original draft, which tells the origin story of Nemo and his warship, the Nautilus. The unofficial logline reads:
"A fugitive whaler teams up with a naturalist, a mysterious woman and a captain of a futuristic submarine, to search for a lost underwater civilization that holds libraries of vast knowledge and a weapon with the power to destroy mankind."
20,000 Leagues Under the Sea was the first live action film in Walt Disney history, and is considered by many to be the most mature film they have ever produced. Based on the Jules Verne novel of the same name, the 1954 film told the story of a ship sent to investigate a wave of mysterious sinkings encounters the advanced submarine, the Nautilus, commanded by Captain Nemo.The film is best remembered for the giant-squid battle and for the Nautilus itself. It won two Academy Awards in 1955 for Best Effects and Set Decoration, and was also nominated for Best Film Editing.
This also seems like the perfect type of movie for Disney to release in Disney Digital 3-D.