District 9 Teaser Trailer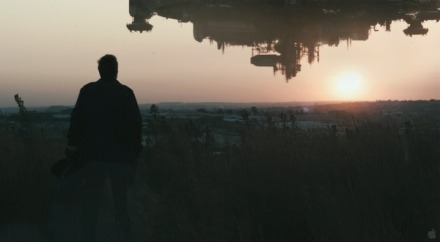 Sony Pictures Entertainment has released the first teaser trailer for Neill Blomkamp's District 9, which you might see before X-Men Origins: Wolverine. As you probably know, Blomkamp is the South African born commercial director who was hired to direct a big screen adaptation of Halo before "financial problems" forced the project back into development heck. District 9 is super secret sci-fi project produced by Peter Jackson, based on Blomkamp's short film Alive in Joburg.
The film depicts a fictional world where extraterrestrials have become refugees in South Africa. Wikus (Sharlto Copley) is a Multi-National United agent who becomes infected by alien biotechnology. He must go on the run from the oppressive government into District 9, a internment camp where "non-humans" have been forced to live since landing on Earth nearly 30 years ago.
If you're going to see Wolverine this weekend, you might want to wait to see this trailer on the big screen. I can tell you that when I saw "the big reveal" on the big screen during the ShoWest presentation, I almost shit my pants. The ship just looks amazing on the big screen, especially in the doc-style the movie is filmed in. Some people might be disappointed that they blur out the alien's face, but I think that adds to the mystery of the project, and makes you want to see what's behind the censored box. Watch the trailer after the jump. Leave your thoughts in the comments below!
[flv:http://bitcast-a.bitgravity.com/slashfilm/trailers/district9.flv 470 258]
Watch the trailer in High Definition on Apple.com . District 9 will hit theaters on August 14th 2009.