Mike Newell In Talks To Direct The Lone Ranger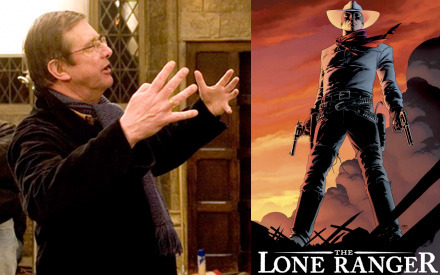 Another great Tweetscoop from Production Weekly tells us that Mike Newell is "in talks to direct Terry Rossio & Ted Elliott's big screen adaptation of The Lone Ranger at Disney." I may have recently had trouble calling Newell's surname to mind (ahem) but I've definitely enjoyed a good number of his films over the years.
The other credits we know to be locked in place for the Ranger is Johnny Depp who will be playing Tonto, the sidekick role, and Jerry Bruckheimer who will be producing. Bruckheimer very recently collaborated with Newell on the Prince of Persia picture. These Ranger negotiations would therefore seem to suggest Bruckheimer's satisfaction with Prince. The question I'd ask is if Bruckheimer's optimism actually counts for anything.According to the official website of author Terry Brooks, Mike Newell is also attached as director to an adaptation of The Elfstones of Shannara. This was announced in late 2007 with little new news since, so while the reference remains on the site, I wouldn't be surprised if it never comes to pass.Newell has a history with Depp from when they collaborated on Donnie Brasco. That film is slowly fading from the collective memory, I fear, and I really don't think it deserves to get passed over.One sad side effect of there being a Lone Ranger movie set up at Disney is that a cross over won't be possible for Gondry's Green Hornet (Hornet alter ego Britt Reid is the great nephew of the Lone Ranger). All the same, Gondry has a plan to work in some crossover references and he told MTV about it:
I've suggested that in a cemetery we would see the horse of the Lone Ranger.
A horse? Is that it? Well, a nice touch anyway – and who cares? Green Hornet is really going to be all about Gondry pushing and pulling the conventions of action films into some curious new shapes.
If Prince of Persia and Lone Ranger both end up being smashes, Newell could end being offered two tentpole franchises to oversee on their way down sequel way, and perhaps he'd even be forced to choose. He's moving further and further away from the earlier, smaller films that so endeared him to me.