Box Office: Wolverine Could Claw To $92 Million Opening Weekend, A Huge Start To Summer Blockbuster Season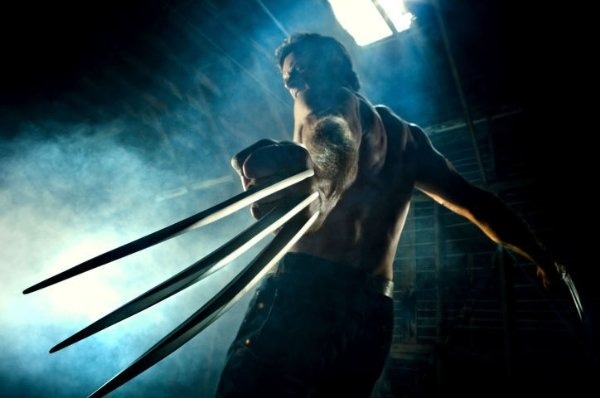 The great thing about a sequel is that it has a built-in audience. The problem with sequels is that, as the numbers after the title go up, so does the production budget. Very hard to know for sure, but sources have told me that the production budget for X-Men was in the $75M range. X-2: X-Men United may have had a budget of about $110M, while the cost of X-Men: The Last Stand was, in all likelihood, as much as $210M. Why doesn't it make sense to just churn out X-Men 4?
Look at these numbers.
X-Men – estimated budget – $75M
$20.8M opening day – $54.5M opening weekend – $152.3M domestic – $296.3M global
X-2: X-Men United – estimated budget – $110M
$31.25M opening day – $85.5M opening weekend – $214.9M domestic – $407.7M global
X-Men: The Last Stand – estimated budget – $210M
$45.1M opening day – $102.7M opening weekend – $224.4M domestic – $459.3M global
It's pretty clear that, with no cost-containment on budget (especially the big cast), the X-Men franchise had reached the point of diminishing returns. So, X-Men Origins: Wolverine (Fox), debuting Friday, is a sequel, but, technically, a spin-off, without costing as much as a true sequel would.
I'm guessing that Hugh Jackman is working for a great price, also serving as a producer with a healthy backend participation. The rest of the name cast is essentially limited to Liev Schrieber (The Manchurian Candidate, The Omen), Dominic Monaghan (The Lord of the Rings Trilogy, NBC's Lost) and Ryan Reynolds (Blade: Trinity, The Amityville Horror), and there is no Bryan Singer (X-Men, X-2) or Brett Ratner (X-Men 3) to direct. Instead, Fox and Jackman settled on the much less expensive, but still Academy Award-winning director Gavin Hood (Tsotsi). Now with a scaled-back story and cast, the movie comes in at a much more studio-friendly price while, hopefully, still packing an X-Men-style box office punch.
Fox has smartly positioned Wolverine as the first movie into the summer fray, and that is important because this is the one May huge release that may not have long legs (I believe that J.J. Abrams' Star Trek will squash it like a bug on the all-new Enterprise windshield next week). I am told that pre-release industry tracking is in the stratosphere for this X-Men spin-off – Un-Aided Awareness, Total Awareness, Definite Interest and First Choice are all through the roof. When the tracking data gets this heated, predictions are dicey at best, but I am calling for $92M domestic. That would be just a tick lower than last year's first-weekend-of-May starter Iron Man, which was $98.6M.
For those of you who may be reading my column for the first time, that $92M figure is my "prediction." That means that based on my experience, conversations with sources at competing studios and interpretation of pre-release industry tracking, I am making a well-educated guess as to how X-Men Origins: Wolverine will deliver in opening weekend US sales. (The road is littered with other well-educated guessers, and I have missed substantially on a few predictions in the past.)
When I start writing on Friday, it will be based on early ticket sales. That will make my numbers "projections" instead of "predictions." My Early Friday and 3-Day "projections" are historically off by no more than 5%-8%.
For the record, I believe that Mr. Jackman and the folks at Fox will be quite happy with anything north of $80M, but they are definitely working to keep expectations lower. In the end, I think they'll be in the $90M-$95M range for 3-days.
Ultimately, Iron Man performed like a monster deep into the summer. It was followed by the box office misfire Speed Racer on the following Friday, giving the Jon Favreau-directed comic book adaptation basically 17 days alone in the marketplace. Wolverine doesn't have that luxury with the aforementioned Star Trek, arriving next Thursday starting at 7pm.
Additionally, Iron Man was jet-powered by spectacular reviews (93% Fresh on Rotten Tomatoes) and excellent word-of-mouth. It'll be more of a mixed bag for X-Men Origins: Wolverine, standing at 41% Fresh on RT as of Wednesday night. The multiplier for Iron Man was 3.22 (the number by which you multiply the opening weekend figure by to arrive at the ultimate domestic gross). Wolverine is more likely to finish with a multiplier of 1.8-1.9. If the picture hits my opening weekend number, that multiplier will put the final US total at something in the $165M-$175M range.
In addition to my final weekend prediction, I also believe that Wolverine may scratch and claw its way to one of the top five or six opening days ever for a comic book movie. That could make it the 2nd-biggest opening day ever for a film from the X-Men franchise, trailing only the first day for X-Men 3.
ALL-TIME TOP 10 OPENING DAYS FOR COMIC BOOK ADAPTATIONS
1. The Dark Knight – $67.1M
2. Spider-Man 3 – $59.8M
3. X-Men: The Last Stand – $45.1M
4. Spider-Man 2 – $40.4M
5. Spider-Man – $39.4M
6. Iron Man – $35.2M
7. X-2: X-Men United – $31.25M
8. Watchmen – $24.5M
9. Hulk – $24.2M
10. Fantastic Four: Rise of the Silver Surfer – $22M
There is always room for an inspired piece of counter-programming, and Warner Bros is apparently executing just that. The Matthew McConaughey-Jennifer Garner-Michael Douglas rom-com Ghosts of Girlfriends Past could reach a very solid $18M by appealing to Females 25 Plus.
The only other wide release is Battle For Terra (Lionsgate/Roadside Atttractions), a sci-fi 3-D release unluckily sandwiched between Monsters vs. Aliens (Dreamworks/Paramount) and Pixar's Up (Disney) on the 3-D release schedule. Despite essentially decent early reviews (70% Fresh on Rotten Tomatoes), Terra will not be putting up much of a Battle. The 3-D screen count will be low, and there has been no real marketing money spent on getting this one launched. I'm predicting about $3.4M, which might be enough to "sneak it" into the top twelve for the frame.
FINAL PREDICTIONS FOR THE WEEKEND OF MAY 1-3
1. NEW – X-Men Origins: Wolverine (Fox) – $92M
2. NEW – Ghosts of Girlfriends Past (Warner Bros) – $18M
3. Obsessed (Sony) – $10.2M
4. 17 Again (Warner Bros) – $6.5M
5. Earth (Disney) – $5.6M
6. Monsters vs. Aliens (Dreamworks/Paramount) – $5.5M
7. The Soloist (Dreamworks/Paramount) – $5M
8. State of Play (Universal) – $4.3M
9. Hannah Montana The Movie (Disney) – $3.9M
10. Fighting (Rogue) – $3.8M
11. Fast & Furious (Universal) – $3.5M
12. NEW – Battle For Terra (Lionsgate) – $3.4M