Crackle Adds Spider-Man 2 And Other New Titles, Launches Cinemactive Movie Game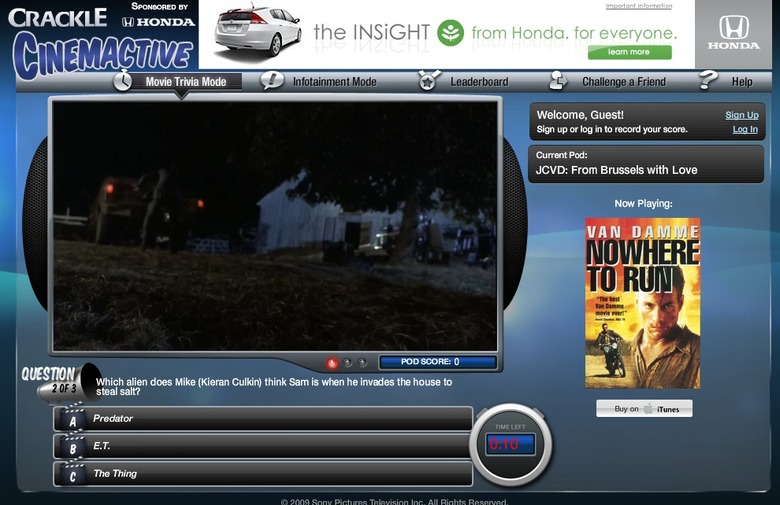 Sony Pictures Entertainment's premium video website Crackle.com have announced that they will expand its feature film offering to nearly 100 titles, with dozens more on the way. Some of the new movies added to the free online movie catalog include Spider-Man 2, Groundhog Day, Stripes, A Few Good Men, 1941, American Hardcore, El Mariachi, several Godzilla movies, Big Fish, The Fan, LaBamba, People vs. Larry Flynt, Johnny Mnemonic, La Femme Nikita and others.
They are also introducing a pretty cool new feature called Crackle Cinemactive, which is an interactive game based on facts relating to video clips from their movie collection. It is kinda like a more interactive version of Scene It!. Unfortunately, most of the movie titles available for Cinemactive play aren't popular movies. I was able to find Jean-Claude Van Damme's Nowhere to Run (as seen in the screenshot above).
Update: Apparently there are a lot of popular movies in  other pods like Appetite for Apatow, Best Men: Adam Sandler  or Best Men: Will Smith. I just wasn't searching for them correctly.