Oliver Stone To Direct Wall Street 2, Michael Douglas And Shia LaBeouf In Talks To Star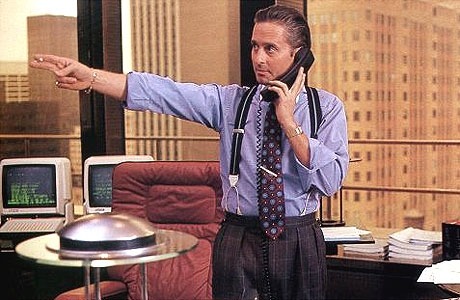 Oliver Stone has officially signed a deal with 20th Century Fox to direct a sequel to the 1987 film Wall Street, according to Entertainment Weekly. Wall Street 2 is the tentative working title for the project, which had been under the working title of Money Never Sleeps.
21 and Things We Lost in the Fire scribe Allan Loeb turned a rewrite on Stephen Schiff's long developing sequel script. Apparently the latest draft was strong enough to convince Stone to return. I would have liked to see Aaron Sorkin's take on a sequel, but rumor has it that he turned down the project.
Michael Douglas is also set to return as Gordon Gekko, a role which earned him an Academy Award. Shia LaBeouf is in talks to play a young wall street trader who, much like Charlie Sheen's character in the original film, comes under Gekko's mentor-ship. As much as some people don't like LaBeouf, it's hard to disagree that he makes a perfect 2009 stand-in for Sheen.
According to Latino Review , the film is set nearly two decades after the first film, with Gekko, having spent 14-years in prison for insider trading and security fraud, now making the lecture circuit as a published financial author. He mentors a young trader named Jacob (likely the character LaBeouf is playing) in hopes to reconnect with his daughter Winnie, Jacob's wife.
Of course, it's a lot more complicated than that, a revenge story set in the topical world of hedge fund managers, and global locals like London and Dubai. The financial word is a much different place than it was 20 years ago, and it looks like the current climate will make for an interesting setting for a sequel.