Confirmed: Jonathan Nolan Not Credited For Terminator Salvation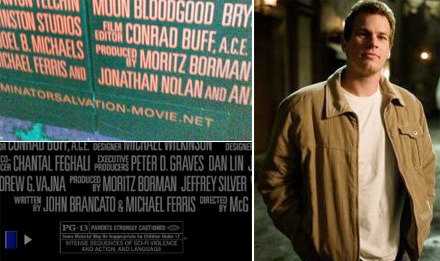 Earlier this week, we noticed that screenwriter Jonathan Nolan was not credited on the official "Written By" credits on the Terminator Salvation website. This seemed odd considering how much director McG played up the Dark Knight screenwriter's role in the film (even referred to Jonathan as "the lead writer of the film.") When asked at Comic Con if Nolan would receive screenwriting credit for his work, McG responded "I don't know how the WGA rules work but honest to goodness, we did the heaviest lifting with Jonah." The Playlist has noticed that the official standee for the film (seen partly above) includes Nolan in the list of credits. So is he in or out?
I called the Writers Guild of America to find out, and they told me that the FINAL "Written By" credits for the film list only John Brancato and Michael Ferris, the duo that wrote Terminator 3: Rise Of The Machines and the original script for Terminator Salvation. The WGA told me that the credits are not currently in arbitration, and that Jonathan Nolan is NOT listed on the final credits.
Update: Apparently Amy from Box Office asked McG about the screenwriter credits, and the director admitted that he had "never met Michael Ferris and John D. Brancato" and credited Nolan as "the architect of the picture," insisting that he is "certain Christian feels the same way."
"I thought we changed the script a great deal. But Jonah did some, Shawn Ryan [The Shield] did some, Anthony Zuiker [CSI] did some and Paul Haggis [Casino Royale] did some. I guess they can only credit so many people, but it's not like the Ferris and Brancato draft deserved that writing credit. That's a decision of the WGA which I have no part in."
Of course, this doesn't mean that Nolan didn't have a large contribution to the film. Changes in dialogue, character, mood and tone can mean the difference between a good movie and a bad movie. But WGA arbitration is a strange, often disputed and sometimes political process. It is my understanding that Nolan would have had to change 51% or more of the story to earn a credit.