IFFBoston Movie Review And Video Interview: Paul Solet's Grace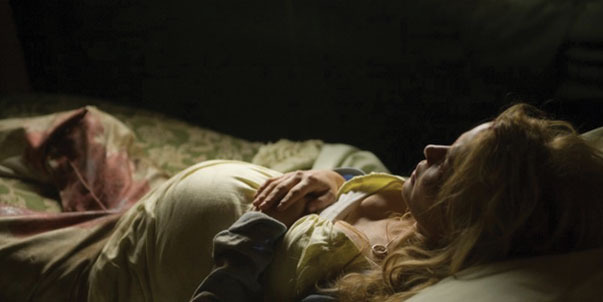 One of Independent Film Festival Boston's "After Hours" selections, Paul Solet's Grace screened to a packed theater at the Brattle at midnight this past Saturday. Grace tells the story of Madeline Matheson (Jordan Ladd), whose unborn child is killed in a tragic accident. Nonetheless, Madeline insists on carrying the baby to term. The baby emerges stillborn but shortly afterwards, it miraculously comes back to life. Madeline names the baby Grace, but finds that she's not like other babies, and possesses a terrible hunger that Madeline will do everything she can to satisfy.
The word I'd use to describe this movie is "Troubling." Grace deserves accolades both for the relative novelty of its premise and for Solet's willingness to venture into bizarre and intense material. The movie is totally unapologetic in its depiction of the elemental pain of childbirth, and gives us perhaps one of the most graphic delivery scenes ever put to film. Yet Grace never feels like it's graphic just for the sake of being graphic; its gore feels core to the story.
But make no mistake: Solet doesn't just coast on the feelings elicited by the ideas (or the blood) alone. Rather, he's taken the time and care to craft a horror film that will make you deeply uncomfortable. His use of close-ups and editing expertly build tension in otherwise mundane situations. For example, using some great music and camerawork, a scene where the main character tries to kill a fly is unexpectedly filled with foreboding dread. Solet also manages to subtly evoke other senses, such as the pain of a baby nursing too hard, or the occasionally pungent smells of a newborn.
Grace contains some other classic horror hallmarks.  There are one or two quirky characters thrown into the mix, and a few mildly humorous situations and dialogue exchanges to round things out. Also, despite Jordan Ladd's role (Ladd was named one of Maxim's "Hottest Women of Horror Movies") , the breasts that you end up seeing in the film are not hers, which is probably just another way that Solet tries to mess with his audience. While I enjoyed these elements of the film, I think it will be really interesting to see how Solet's mastery of these tonal elements becomes more refined as his career continues.
Overall, I think this film represents a fantastic, terrifying entry into the horror genre and an extremely promising start for a young director (Solet isn't even 30 years old yet, which makes me feel like I've accomplished nothing with my life). Solet cements himself as a bold new talent in the world of horror with Grace. He's a guy who understands that a good horror movie is more than just jump scares; it's also one that will make you squirm and fill you with fear until the very last frame. I can't wait to see what he does next.
Here's the full trailer for Grace:
I had the opportunity to speak with director Paul Solet the other day outside of the Somerville Theater in Somerville, MA. We talked about some of his inspirations, his creative process, as well as what it was like to film a movie starring a baby [Warning: While I am asking questions, the camera sometimes becomes really shaky. This is because I am obviously still learning how to hold a camera correctly. Sorry!]:
Here's part 1 of my interview:
[flv:http://bitcast-a.bitgravity.com/slashfilm/trailers/paulsolet1.flv 470 250]
Here's part 2 of my interview:
[flv:http://bitcast-a.bitgravity.com/slashfilm/trailers/paulsolet2.flv 470 250]
David Chen can be reached at davechensemail(AT)gmail(DOT)com. You can also follow his updates on Twitter or Tumblr.