Ridley Scott Is Considering Alien Prequel/Reboot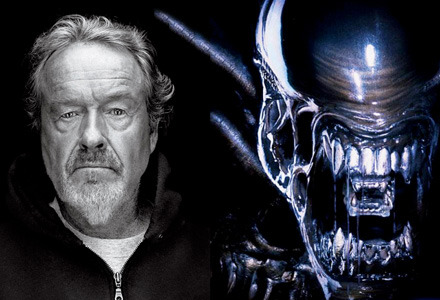 20th Century Fox head Tom Rothman revealed to IESB that there is "some talk" of an Alien "prequel" to go along with the recently announced Robert Rodriguez-produced Predator reboot Predators. Rothman confirms that director Ridley Scott is "toying around with the idea." And the Fox head gives the impression that another Alien movie, be it sequel, prequel or reboot, would only happen with Scott's involvement.
I remember reading an interview with Scott where the filmmaker expressed interest in making a prequel that would explore the origins of the space jockey and the Aliens. At one point James Cameron was working on an origin story for a fifth Alien film, but abandoned the development when Aliens vs. Predator was announced. Sigourney Weaver has publicly expressed interest in doing a sequel, but it wouldn't make sense to include her character in an origin story. But who knows, maybe Ridley is "toying" with some kind of reboot/prequel combo.