Did Bill Murray Film A Zombie Cameo In Zombieland?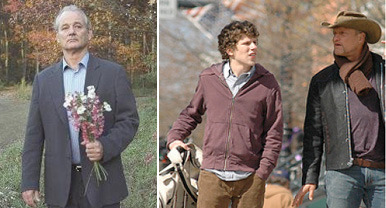 ShockTillYouDrop has learned that Bill Murray filmed a cameo for Ruben Fleischer's horror comedy Zombieland. According to the anonymous source, Murray donned full zombie make-up to make a shot appearance. Murray was in Georgia working on the film Get Low while Zombieland was in production. Zombieland star Woody Harrelson was spotted hanging out with Murray at some local Atlanta spots, so it's very possible.
It is unknown is Murray appears in the background of a shot, or is featured on screen. I visited the set of the film earlier this month, ans whild while I'm embargoed from sharing my experiences with you until closer towards release, I will tell you this is a film to watch out for.
Columbus (Jesse Eisenberg) has made a habit of running from what scares him.  Tallahassee (Woody Harrelson) doesn't have fears.  If he did, he'd kick their ever-living ass.  In a world overrun by zombies, these two are perfectly evolved survivors.  But now, they're about to stare down the most terrifying prospect of all:  each other.