IFFBoston EXCLUSIVE: Director Paul Solet Reveals Details About Grace's Future DVD Release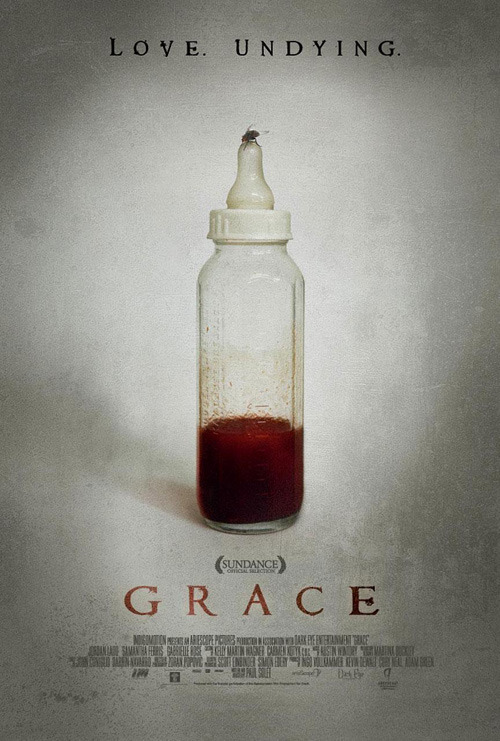 Horror fanatics among you might have already heard about Paul Solet's audacious debut film, Grace, which has been generating obscene amounts of buzz on the festival circuit (screenings of the film have reportedly even resulted in some people fainting). Last night, I saw the film at a packed midnight screening at the Brattle Theater as part of Independent Film Festival Boston and found the overall experience to be exciting and tense. Those of you hankering for a horror film that will make you deeply uncomfortable have a lot to look forward to in this film. While the movie's theatrical prospects currently remain unclear, I had the privilege to chat with Paul this afternoon about the future DVD release of his film. Look for a brief review of Grace and my full video interview with Paul in the near future. In the meantime, hit the jump for some details that he revealed about the future DVD release for the film.
Like many of us at /Film, Solet has great respect for DVDs as a medium to communicate the filmmaking process to fans. "I learned just as much studying DVDs as I have going to film school," said Solet. "It was very important that we do this right," he added. Solet allowed documentarian Adam Barnick to wire him up and record him for what sounds like a huge percentage of the shooting of the film. Much of this footage and audio will make it into the final home video release of Grace.
The DVD (and, I'm guessing, probably a Blu-Ray as well) will feature a commentary with director Solet and producer Adam Greene. It will also feature 6 documentaries, which will include:
an "Origins" documentary about how the film got made
a documentary about the film's characters
a documentary about the look of the film, which will foucs on cinematography and production design
a behind-the-scenes documentary that features footage from the set of the film. "This is beyond fly-on-the-wall stuff," Solet explained. "[Barnick] is really right in the mix."
an exhaustive documentary following Solet's experience at Sundance
There is potential for a special edition of the film which include Grace's precursor short film on it. "From a purely geek standpoint, this DVD is going to be smoking. I've never seen a DVD that is this good. Amazing shit," Solet concluded. Grace should be out on DVD before the end of 2009. As a DVD/Blu-Ray collector, it's nice to see a director who knows how to treat his fans right in the extras department.
For those of you that are interested, here's some audio from my interview with Paul, where he talks about the DVD [This interview took place outside on a windy day, so listen with caution]: