Movie Score News: Transformers 2, Sherlock Holmes, Funny People, New Moon, Centurion And How To Train Your Dragon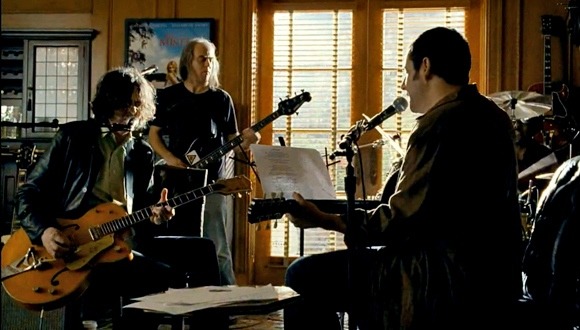 If you're a regular reader of /Film, then you know that we're big fans of movie soundtracks and film scores (if you haven't yet, listen to the bonus /Filmcast movie score episode). So I thought I'd fill you in on some of the latest cinematic music developments.
After the jump we'll tell you about how Linkin Park is working on the score for Transformers: Revenge of the Fallen with Hans Zimmer (who isn't even the composer on the film!?), how the Twilight sequel New Moon scored the composer from Fincher's Benjamin Button, how Jon Brion appears on screen but not behind the music in Apatow's Funny People, and the just announced composers for Sherlock Holmes, Centurion and How To Train Your Dragon.
Linkin Park has officially confirmed that the band is working on the score and a song for Michael Bay's Transformers: Revenge of the Fallen. Apparently the song the band wrote is being used as one of the themes, and LP has written "various interpolations on that theme, and trying out some other thematic ideas as part of the (very large) team scoring the film."
"We met with Hans last week, and heard some of the incredible things he and his guys have done with our new song," writes band member Mike Shinoda. "In the next few days, we'll be doing some work with Hans' amazing writing and recording crew. Michael Bay has shown us select scenes from the film, and it looks incredible. I can't wait for you to see it."
That's right, Linkin Park claims they've been working with Hans Zimmer, not Steve Jablonsky, the listed composer on the film. Perhaps Zimmer is lending a hand?
Update: Apparently Jablonsky works under Zimmer's team, Remote Control Production.
Shinoda describes the song: "The backdrop for the song is built on layered, heavy synths and a sharp performance by Mr. Bourdon. We're keeping the drums a little looser on this track, not doing too much studio trickery...it creates a nice interplay between the organic feel of the rhythm track and the more robotic feel of the keyboards. Bass and guitar are next, meanwhile Chester and I are emailing lyric notes back and forth..." [mikeshinoda]
Moving on...
Hans Zimmer has signed on to score Guy Ritchie's reimagining of Sherlock Holmes. Zimmer has been nominated for seven Academy Awards, and won an Oscar for The Lion King. His credits include: Batman Begins, Gladiator, The Thin Red Line, As Good as it Gets, Rain Man, The Dark Knight, Kung Fu Panda, Thelma & Louise, The Rock, Brocken Arrow, A League of Their Own, Backdraft, Days of Thunder, Driving Miss Daisy, Frost/Nixon, and many others.
Jon Brion (Eternal Sunshine Of the Spotless Mind, Magnolia Punch Drunk Love, I Heart Huckabees) makes an on screen appearance in Judd Apatow's Funny People (photo at the top of the article), but Jason Schwartzman is writing the film's score. I'm a HUGE fan of Brion's work, and hope that he somehow is involved in the music of the film. I can't see how Apatow would ask him to apear on screen but not help out behind the scenes. [playlist]
John Powell (Shrek, The Bourne series, Face-Off) will be composing the score for DreamWorks Animation's How To Train Your Dragon. Powell's filmography includes a lot of animated projects, including: the Ice Age movies, Bolt, Kung Fu Panda Horton Hears a Who!, Happy Feet, Robots, Shrek, Chicken Run, The Prince of Egypt, and Antz. [upcomingfilmscores]
French composer Alexandre Desplat will be scoring The Twilight Saga: New Moon. Desplat recieved Academy Award nominations for his contributions to The Curious Case of Benjamin Button and The Queen. His credits have also included The Golden Compass, The Painted Veil, Syriana, Derailed, Sasanova, Birth, and Girl with a Pearl Earing. [FirstShowing]
Ilan Eshkeri is attached to score Neil Marshall's upcoming epic action adventure film Centurion. Eshkeri's filmography includes Layer Cake, Hannibal Rising, Stardust, Kick-Ass and Ninja Assassin.