Speculation: Is Jake Gyllenhaal A Dead Spy Running?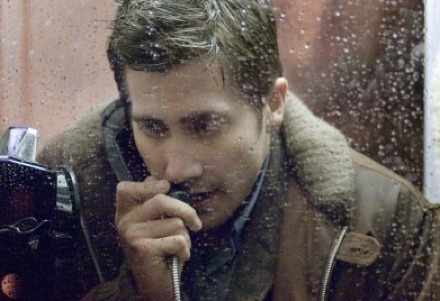 I have a love/hate  relationship with "take a meeting" stories. I hate them on one hand because they're so speculative and gossipy. On the other hand, I love rumors and speculation. What is a "take a meeting" story? It is when a two people, usually a director and an actor or a writer and an actor are spotted in the wilds of Los Angeles having "lunch". And of course, no one is Hollywood just has lunch to have lunch, especially not filmmakers and actors (I'm kidding... but also partly serious). Anyway, if you're going to get upset over a highly speculative story, please skip over this post.
Jake Gyllenhaal was spotted taking a lunch meeting with Academy Award and Emmy Award-winning screenwiter/director Stephen Gaghan at Caffe Luxxe on Friday afternoon in Santa Monica (photo from JustJared). Chances are they were meeting about something, but what could it be?
The only announced project that Gaghan is currently working on is an adaptation of the Jon Stock spy novel Dead Spy Running, the first of a possible trilogy of films/book about a newly trained spy who goes on a globe trotting adventure to exonerate his father. Gaghan is writing the screenplay for McG to direct. It is more than possible for an interested star to be involved in the development of the screenplay. And I'm not sure about you, but I can certainly picture Gyllenhaal in a Bourne-style spy action thriller.
But who knows. The meeting could be for some other project all together, or nothing at all. I just thought I'd post about it in the rumor mill since it's going to be a slow weekend.