IFFBoston Review And Interview: Tze Chun's Children Of Invention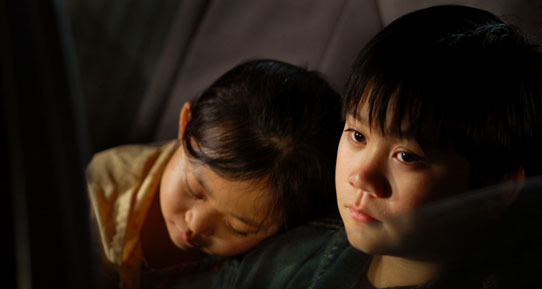 Last night I saw Tze Chun's film, Children of Invention, at IFFBoston. Children of Invention follows the plight of an Asian American family in Boston, grappling with poverty. As the single mother of two children, Elaine Cheng (Cindy Cheung) is forced to resort to some desperate measures in order to provide for Raymond (Michael Chen) and Tina (Crystal Chiu). When Elaine, who's ever-searching for a way to be financially independent, becomes embroiled in a pyramid scheme that spirals beyond her control, her children are left to fend for themselves.
Perhaps more significant is the fact that the film depicts circumstances that you probably would have never even thought about: Thousands of immigrants, trying to emerge from the bowels of poverty, are caught up in get-rich-quick schemes that end up destroying them. Children of Invention powerfully deals with the reality of that situation, and captures the horror of those schemes' inevitable failures, and the stoicism of each of the family members who are forced to endure.
Children of Invention was chosen to screen at Sundance 2009 and won Special Jury awards at the San Francisco International Asian American Film Festival and the Sarasota Film Festival. You can actually purchase Children of Invention on DVD right now at the movie's website.
I had the opportunity to speak with Mr. Chun last night after the screening. We talked about the plight of indie films today, the necessity of different distribution models, and the role/position of Asians in American cinema. You can download the interview here or listen in your browser below.
Subscribe to the /Filmcast:
David Chen can be reached at davechensemail(AT)gmail(DOT)com. You can also follow him on Twitter or Tumblr.