Oceans Teaser Trailer OR An Infomercial For Disneynature?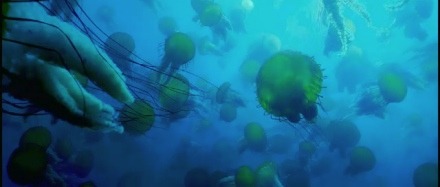 March of the Penguins sparked a new life in eco-documentaries by adding the dramatic element, and Disney is attempting to build a brand on the concept. Attached to Disney's Earth is a teaser trailer for Disneynature's next Earth Day release, Oceans.
The teaser doesn't show much from the Jacques Perrin-directed ecological dramatic documentary, but it goes a long way to try to say "Walt Disney would've wanted you to see this movie." It almost seems like an advertisement for the Disneynature brand itself, rather than the film. It kind of reminds me of the teaser trailer for WALL-E, where most of the build-up revolved around the past films of Pixar's history. In some forms of entertainment, they call this "the rub." Watch the new teaser trailer after the jump.
[flv:http://bitcast-a.bitgravity.com/slashfilm/trailers/oceans.flv 470 200]
Official Plot Synopsis: Nearly three-quarters of the earth's surface is covered by oceans. French co-directors Jacques Perrin and Jacques Cluzaud have set out to capture the full expanse of these waters that have played such a crucial and constant role in the history and sustenance of man. The deep and abundant oceans are places of great mysteries and dangers that this film will dare to explore.
Watch the trailer in High Definition on Apple. Oceans will hit theaters on Earth Day 2010.