This Week In DVD: The Wrestler, Frost/Nixon, Notorious, Caprica
We may receive a commission on purchases made from links.
This Week in DVD is a column that compiles all the latest info regarding new DVD releases, sales, and exclusive deals from stores including Target, Best Buy and Fry's.
Please don't take the commentary on the movies and TV shows too seriously, as they're meant not to be reviews but rather previews that include the general thoughts and ramblings of a twice-committed DVD addict. The categories represent solely the author's intentions towards the DVDs at hand, and are in no way meant to be a reflection on what he thinks other people should rent or buy. So if he ends up putting a movie you like in the "Skip it" section without having seen it, please keep in mind that the time you could spend leaving a spiteful but ultimately futile comment could instead be used for more pleasant things in life. Like buying DVDs.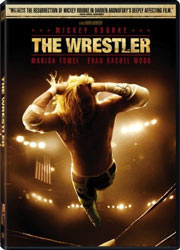 THE WRESTLER
In what I'd argue was one of the biggest snubs in Oscar history, the Academy Awards' failure to nominate The Wrestler for Best Picture showed not only a lack of appreciation for director Darren Aronofsky's emotionally devastating, richly affecting tale of a lonely man trying to fill the empty void in his life, but also a lack of foresight. While movies like The Reader and Frost/Nixon are likely to be forgotten in less than five years, I predict this is a movie that will only grow in appeal; Mickey Rourke's heart-wrenchingly honest performance ensures it.
Blu-ray? Yes.Notable Extras: A 'Within the Ring' featurette, and a 'The Wrestler' music video by Bruce Springsteen.
BEST PRICE
Target
Best Buy
Fry's
$16.99
Amazon – $16.99
EXCLUSIVE DEAL:What? $5 Gift Card with purchase of DVD.Where? Fry's.EXCLUSIVE DEAL:What? Save $5 when you buy both The Wrestler and Notorious.Where? Best Buy.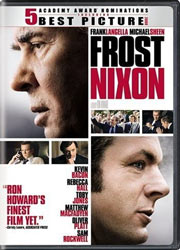 FROST/NIXON
Had Frost/Nixon never been nominated for Best Picture, I'd be in a much easier position. It would free me to discuss the film's merits (of which there are many) instead of take issue with the Oscar's claim that it's one of the year's best (which it is not). To argue against the latter point would be a losing battle: Frost/Nixon is nothing more than fluff entertainment for intellectual moviegoers. It's a well-written dialogue-based drama with several strong performances, yes, but it's presented with such a standard, manufactured narrative that there's really no room for intrigue. You know what's going to happen not because it already has in history, but because Frost's character arc follows the exact same pattern as hundreds of characters before him. And given that Ron Howard seriously hindered the film by incorporating those horrible faux-interviews (which serve no other purpose outside of grinding its pace to a screeching halt), nominating him for Best Director was a big slap in the face to all those filmmakers out there who deserved it so much more than him (*cough* Aronofsky *cough*).
Blu-ray? Yes.Notable Extras: A commentary with director Ron Howard, deleted scenes, and 3 featurettes (The Making of Frost/Nixon, The Real Interview, The Nixon Library).
BEST PRICE
Target
Best Buy
Fry's
$16.99
$17.99
$16.99
Amazon – $17.99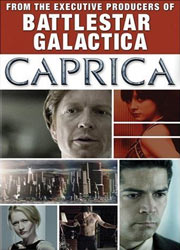 CAPRICA
Seeing as how I haven't yet gotten into Battlestar Galactica, I won't bother discussing the quality (or possible lack thereof) of Caprica. (Devindra Hardawar already did a much better job of that than I ever could.) Instead, I'm simply going to address an issue that seems to have a number of Battlestar Galactica fans up in arms: in what can only be construed as a blatant cash grab, the Sci-Fi Channel is releasing an extended version of the pilot exclusively on this DVD. This is despite the fact that the show's eventual Season 1 DVD release is guaranteed to include said pilot (although possibly not extended, thus forcing you to double-dip). On top of that, the series doesn't even begin airing until early 2010, meaning this DVD—and I believe digital download—are the only legal ways to check out the show until then. And even if you do decide to check out the DVD, there's still going to be almost a year of waiting until you can see any other episodes in the series. Kind of annoying, huh?
Blu-ray? No.Notable Extras: A commentary with director Jeffrey Reiner and others, deleted scenes, and video blogs (What the Frak is Caprica?, The Director's Process, The V Club, The Birth of a Cylon).
BEST PRICE
Target
Best Buy
Fry's
$17.99
$19.99
Amazon – $17.49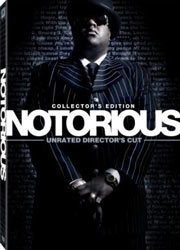 NOTORIOUS(Available as single-disc Unrated Director's Cut and 3-Disc Director's Cut + Digital Copy)
Conventional, formulaic cinema is the bane of my movie-going existence, no matter how competently executed. I watch films to see something new, not to watch the same thing I've already seen dozens of times before. It's disappointing then that this appears to be the very issue that so heavily plagues Notorious, a biopic that apparently has no mind of its own in detailing the rise-and-fall of rapper Christopher Wallace (aka the Notorious B.I.G.).
Blu-ray? Yes.Notable Extras: The three-disc includes two audio commentaries, deleted scenes and featurettes (Behind the Scenes: The Making of Notorious, I've Got A Story To Tell: The Lyrics of Biggie Smalls, Notorious Thugs: Casting The Film, Biggie Boot Camp, Anatomy of a B.I.G. Performance, Party & Bullshit, The B.I.G. Three-Sixty).
BEST PRICE*
Target
Best Buy
Fry's
$16.99
Amazon – $21.99
*Does not include 3-Disc Edition, which costs $22.99 at each of the listed stores (and $24.49 at Amazon).
EXCLUSIVE DEAL:What? Save $5 when you buy both The Wrestler and Notorious.Where? Best Buy.Other noteworthy DVDs available this week...My Own Worst Enemy (The Complete Series) – The Burrowers – A Jihad for Love – How About You – The Last Word – Laid to Rest

NOTE: Some deals may be in-store only.

$29.99 – 30 Rock (Season 1 & 2 value pack)$32.99 – The Office (Season 3 & 4 value pack)$34.99 – House (Season 1 & 2 value pack, Season 3 & 4 value pack)$32.99 – Monk (Season 1 & 2 value pack, Season 3 & 4 value pack, Season 5 & 6 value pack)

$19.99 – Dexter (Season 1), American Dad (Volume 3), Supernatural (Season 3)$24.99 – The Office (Season 2 – 3), Heroes (Season 2)$26.99 – Battlestar Galactica (Seasons 1 – 3), Generation Kill, John Adams