What Is Going On With Zack Snyder's Sucker Punch?!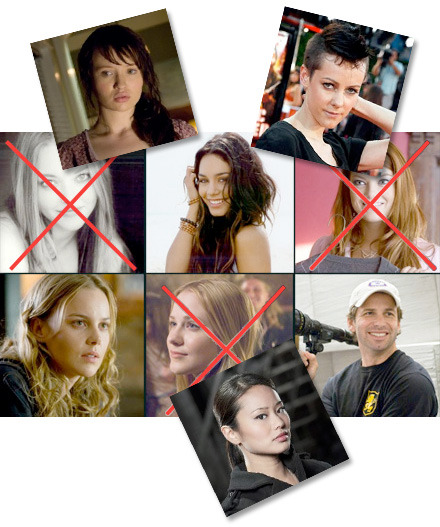 Zack Snyder has lost two more Sucker Punch cast members: Evan Rachel Wood and Emma Stone have both dropped out due to "scheduling conflicts". This comes one month after it was announced that the film's lead Amanda Seyfried was forced to leave the project, also due to "scheduling conflicts". Am I the only person that finds it strange that half of the announced cast have been forced to drop out due the scheduling issues? The cast was announced before Watchmen's underperformed at the box office.  And while I have absolutely no proof what-so-ever that the events are connected, my gut is telling me that they are.
Seyfried, star of Big Love, Mamma Mia, and Mean Girls was replaced with Emily Browning, whose credits top out with a bunch of crappy horror flicks (The Uninvited, Standed, Darkness Falls, Ghost Ship). And tonight Stone and Wood's replacements were announced: Jamie Chung (Dragonball Evolution) and Jenna Malone (Into The Wild, Donnie Darko). Malone is a great catch. She's definitely a talented and underused actress but it's hard not to see a pattern: Warner Bros is trading down, casting considerably lesser known actresses which most likely will save them considerable cash on the budget side. Could it be that Warner Bros is concerned about the profitability of Snyder's R-Rated $100 million fantasy film?
Snyder has called the film "Alice in Wonderland with machine guns", a 1950's-period action movie which tells the story of a girl named Baby Doll (Browning) who is confined to a mental institution by her evil stepfather, who intends to have her lobotomized in five days. While imprisoned, she imagines an alternative reality to hide her from the pain. In this fantasy world, where she needs to steal five objects to help her out before she is deflowered by a vile man.
As it stands right now, Vanessa Hudgens (High School Musical), Abbie Cornish (Stop-Loss), Jamie Chung and Jenna Malone will play Browning's fellow inmates who also travel into the alternate reality. But at the rate things are going, I wouldn't be surprised to also see Hudgens drop out of the project. Warner Bros has previously announced a October 8th 2010 release date.
sources: THR