Paper Heart Movie Trailer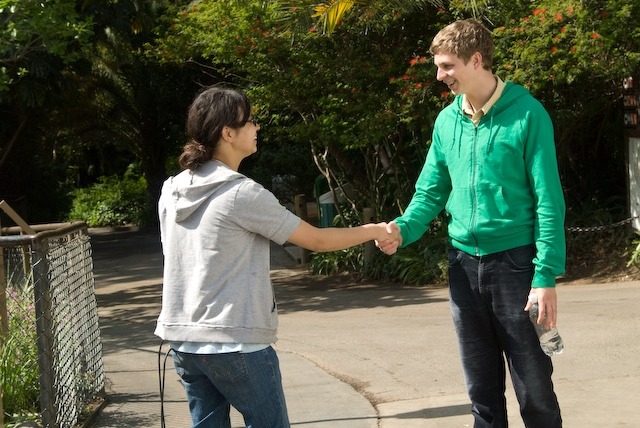 Paper Heart was one of the most talked about films going into Sundance 2009, and ended up winning the Waldo Salt Screenwriting Award. The film starts out as a documentary.Charlyne Yi does not believe in love. Paper Heart follows Charlyne as she embarks on a quest across America to explore the  the one subject she doesn't fully understand.But the film is also partly a scripted, telling the blossoming relationship between Charlyne and real life boyfriend Michael Cera. Will Charlyne be transformed into a true believer? The answer is more complicated than what you might expect.
The film's trailer was attached to 17 Again, and is now available online thanks to Apple. Overture Films will be releasing the movie in theaters on August 7th. I think this film is actually quite clever, and that most people that screened the film at Sundance almost completely missed (or should I say, didn't even notice) the story's multi-layered story (read the spoiler section of my review ONLY after you have seen the movie). Check out the trailer after the jump and tell me what you think in the comments below.
[flv:http://bitcast-a.bitgravity.com/slashfilm/trailers/paperheart.flv 470 250]
PAPER HEART follows Charlyne as she embarks on a quest across America to make a documentary about the one subject she doesn't understand: Love. As she and her friend and director Nicholas Jasenovec, together search for answers and advice, you get the idea that this new generation's cynicism isn't the whole story. On their journey, Charlyne talks with an eclectic array of friends and acquaintances, including scientists, bikers, romance novelists, and children. They offer diverse views on modern romance, as well as various answers to the age-old question: does love really exist?
Shortly after filming begins, Charlyne meets a man after own heart, Michael Cera. As their relationship develops on camera, the pursuit to discover the nature of love takes on a new urgency when she risks losing the person closest to her heart. Combining elements of storytelling, reality and fantasy, PAPER HEART brings a fresh perspective to the modern romance and redefines the classic love story.
PAPER HEART was directed by Nicholas Jasenovec and co-written by Nicholas Jasenovec and Charlyne Yi. The film stars Charlyne Yi, Michael Cera, and Jake Johnson as Nicholas Jasenovec.
Watch the trailer in High Definition on Apple. Paper Heart will hit theater on August 7th 2009.