Toby Kebbell Joins The Sorcerer's Apprentice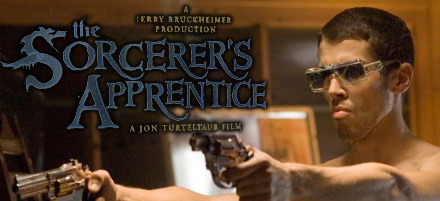 Toby Kebbell (Rocknrolla) has joined the cast of Disney's The Sorcerer's Apprentice as Drake Stone, a celebrity illusionist, not unlike Chriss Angel,  who joins forces with an evil sorcerer named Horvath (Alfred Molina), to "gain ultimate powers." Kebbell just got done shooting the video game adaptation Prince of Persia: The Sands of Time, which was also produced by Jerry Bruckheimer and featured Molina.
Loosely adapted from the classic story from Fantasia, and based in modern-day Manhattan, Jay Baruchel stars as Nicolas Cage's Apprentice, who gets into trouble when the broomstick he's tasked to do his chores while the Sorcerer is away somehow develops a mind of its own. The film, which has been shooting in New York for the last month and a half, also features Teresa Palmer (Bedtime Stories) as Baruchel's love interest.
I enjoyed the first National Treasure film (on a pure popcorn level) and am willing to give Jon Turteltaub another chance after Book of Secrets.  The Sorcerer's Apprentice is set to hit theaters on July 16th 2010.
source: Variey