Star Trek Tickets Are Now On Sale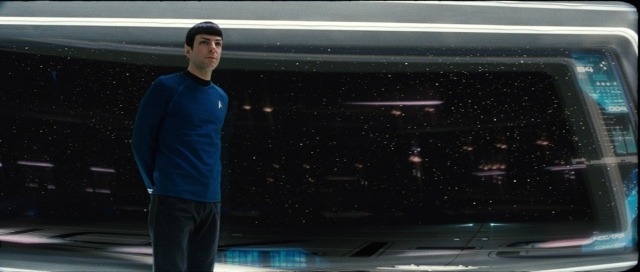 Paramount Pictures has announced that presale tickets for JJ Abrams' Star Trek have gone on sale today in most of the major theater chains (AMC, National Amusements, Pacific/Arclight, Regal...etc) Read the full press release after the jump.
TOP THEATER CHAINS TO START SELLING "STAR TREK" EARLY SHOW TICKETS STARTING THIS FRIDAY, APRIL 17
May 7 Tickets Will Be Pre-Sold by AMC Theatres, National Amusements, Pacific/ArcLight, Regal & other theatre circuits
HOLLYWOOD, CA (April 16, 2009) –Starting Friday, April 17, many of the nation's top theater chains will start offering early show tickets for Bad Robot's production of J.J. Abrams' "Star Trek," presented by Paramount Pictures and Spyglass Entertainment.  The tickets are for May 7 evening performances of the film, which debuts worldwide on May 8, 2009. Participating chains include AMC Theatres, National Amusements, Pacific/ArcLight and the Regal Entertainment Group, among others.  Additional theatre chains will offer advance tickets in the coming week.
The greatest adventure of all time begins with "Star Trek," the incredible story of a young crew's maiden voyage onboard the most advanced starship ever created: the U.S.S. Enterprise.  On a journey filled with action, comedy and cosmic peril, the new recruits must find a way to stop an evil being whose mission of vengeance threatens all of mankind.
The fate of the galaxy rests in the hands of bitter rivals.  One, James T. Kirk (Chris Pine), is a delinquent, thrill-seeking Iowa farm boy. The other, Spock (Zachary Quinto), was raised in a logic-based society that rejects all emotion.  As fiery instinct clashes with calm reason, their unlikely but powerful partnership is the only thing capable of leading their crew through unimaginable danger, boldly going where no one has gone before!
Paramount Pictures and Spyglass Entertainment Present a Bad Robot Production "Star Trek" starring John Cho, Ben Cross, Bruce Greenwood, Simon Pegg, Chris Pine, Zachary Quinto, Winona Ryder, Zoë Saldana, Karl Urban, Anton Yelchin, Eric Bana and Leonard Nimoy.  The film is directed by J.J. Abrams ("Mission: Impossible III," "Lost," "Alias") and written by Roberto Orci & Alex Kurtzman ("MI: III," "Transformers").  Based upon "Star Trek" Created by Gene Roddenberry.  The film is produced by J.J. Abrams and Damon Lindelof.  The executive producers are Bryan Burk, Jeffrey Chernov, Roberto Orci and Alex Kurtzman.  The director of photography is Dan Mindel, ASC.  The production designer is Scott Chambliss.  The film is edited by Maryann Brandon, A.C.E. and Mary Jo Markey, A.C.E.  The costume designer is Michael Kaplan.  The visual effects & animation are by Industrial Light & Magic.  The music is by Michael Giacchino.  This film has been rated PG-13 for sci-fi action and violence and brief sexual content.