New Photo From Pixar's Partly Cloudy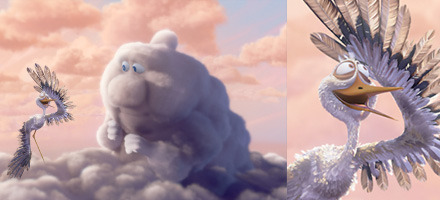 In March we posted the first photo from Pixar's newest short animated film Partly Cloudy. But to be honest, the first photo was a wide shot, and you really couldn't see the characters that well. Pixar has released a new photo on AICN (click on over to see the image in high res). I wonder if the short film will also be projected in digital disney 3D. The directorial debut of storyboard artist and animator Peter Sohn (he also provided the voice of Emile in Ratatouille) tells the story of where babies come from. Read the official plot synopsis after the jump.
"Everyone knows that the stork delivers babies, but where do the storks get the babies from? The answer lies up in the stratosphere, where cloud people sculpt babies from clouds and bring them to life. Gus, a lonely and insecure grey cloud, is a master at creating "dangerous" babies. Crocodiles, porcupines, rams and more–Gus's beloved creations are works of art, but more than a handful for his loyal delivery stork partner, Peck. As Gus's creations become more and more rambunctious, Peck's job gets harder and harder. How will Peck manage to handle both his hazardous cargo and his friend's fiery temperament?"
Partly Cloudy will be attached to Up which hits theaters on May 29th, 2009.