Geek Deal: Planet Of The Apes Blu-Ray Collection For $58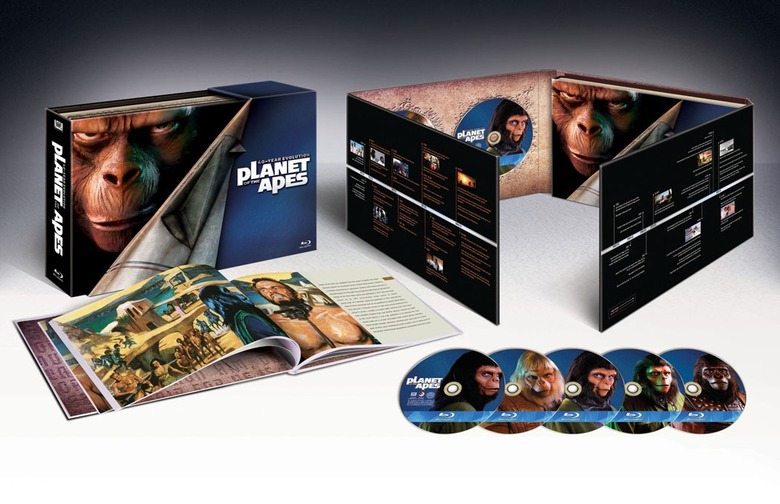 We may receive a commission on purchases made from links.
Today's Amazon Deal of the Day is the Planet of the Apes 40th Anniversary Collection on Blu-Ray . Presented in a multi-panel fold-out booklet, 5-disc collection includes all five films, a full-color book of photography, and a comprehensive timeline of the Apes universe.For the next 24 hours, Amazon is selling the collection for $57.95, 55% off the $130 msrp.
Special Features:
- NEW Science of the Apes BONUSVIEW – Scientists, anthropologists and sociologists discuss the facts and fiction of the first film
- NEW "Beyond the Forbidden Zone" Adventure Game
- NEW "A Public Service Announcement From ANSA" in HD – A mission report from the agency regarding their brave astronauts
- NEW "Evolution of the Apes"- HD featurette tracing the apes story from the original novel to the screen
- NEW "Impact of the Apes" – HD featurette on how to market a worldwide pop culture phenomenon. The story behind the marketing and merchandising of one of the first ever film franchises and the series' lasting influence on pop culture through the years
- NEW HD Making-of Featurette for Each Sequel:
- Beneath the Planet of the Apes – "From Alpha to Omega: Building a Sequel"
- Escape from the Planet of the Apes – " The Secret Behind Escape"
- Conquest of the Planet of the Apes – " Riots and Revolutions: Confronting the Times"
- Battle for the Planet of the Apes – " End of an Epic: The Final Battle"
- NEW Each Apes sequel will have an isolated score track in 5.1 DTS Master Audio
- Commentary by Composer Jerry Goldsmith
- Commentary by Actors Roddy McDowall, Natalie Trundy, Kim Hunter and Makeup Artist John Chambers
PLANET OF THE APES: 40 YEAR EVOLUTION BLU-RAY COLLECTION
- Text Commentary by Eric Greene and Author of "Planet of the Apes as American Myth"
- Behind the Planet of the Apes Documentary – Includes all new interactivity and timeline
- Behind the Planet of the Apes Promo (1988)
- Planet of the Apes Makeup Test with Edward G. Robinson (1966)
- Roddy McDowall On-set Footage
- Planet of the Apes Dailies and Outtakes (No Audio)
- Planet of the Apes NATO Presentation (1967)
- Planet of the Apes Vintage Featurette (1968)
- A Look Behind the Planet of the Apes (1972)
- Don Taylor Directs Escape from the Planet of the Apes
- J. Lee Thompson Directs Conquest of the Planet of the Apes
- Original Theatrical Trailers
- Original Sketches by Costume Designer Morton Haack
- Photo Gallery
- Planet of the Apes Timeline
- Interactive Pressbooks
- Vintage Apes Newspaper Galleries
- Advertising and Lobby Card Galleries
- Behind-the-Scenes Galleries