Movie Review: State Of Play, Or Why Newspapers Are Still Important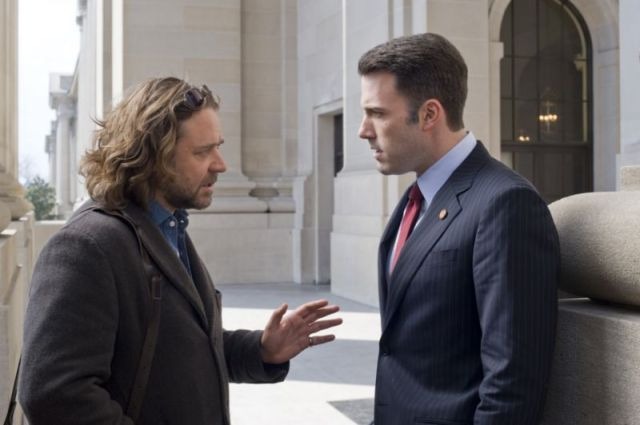 As recently as January 2009, industry observers speculated that The New York Times might go out of business before the end of the year, crushed under the weight of insurmountable debt. In the January/February 2009 issue of The Atlantic, Michael Hirschorn asked, "Virtually all the predictions about the death of old media have assumed a comfortingly long time frame for the end of print...But what if the old media dies much more quickly? What if a hurricane comes along and obliterates the dunes entirely? Specifically, what if The New York Times goes out of business—like, this May?" The NYT's troubles reflect the broader problems of the newspaper industry as a whole, which continues its Bataan death march into financial ruin.
Many might rejoice at the notion of an entirely digital future for journalism, where information is easily accessible, facts are often accompanied by easy-to-read opinion, and citizen journalism (and maybe a touch of internet vigilantism) are allowed to take hold. But the facts don't conveniently line up with that kind of thinking. Hirschorn writes: "Internet purists may maintain that the Web will throw up a new pro-am class of citizen journalists to fill the void, but for now, at least, there's no online substitute for institutions that can marshal years of well-developed sourcing and reporting experience—not to mention the resources to, say, send journalists leapfrogging between Mumbai and Islamabad to decode the complexities of the India-Pakistan conflict."
These tensions in the journalism industry are adeptly brought to the forefront in Kevin MacDonald's new film, State of Play.
Based on Paul Abbott's 2003 critically-acclaimed British miniseries of the same name, State of Play centers around the death of a congressional research assistant, Sonia (Maria Baker), who was previously working with ambitious congressman Stephen Collins (Ben Affleck) in the investigation of a private military contractor. Grizzled Washington Globe journalist Cal MacAffrey (Russell Crowe), who used to be Collins' roommate, tries to get to the bottom of things, and is helped by a plucky young blogger and new hire, Della Frye (Rachel McAdams). MacAffrey also happens to be involved with Collins' wife (Robin Wright Penn). As he gets closer to the truth, he discovers that the circumstances surrounding Sonia's death are not what they seem.
Ever since his 2003 documentary Touching the Void, I've known that Kevin MacDonald is one of the best working directors alive today (and for the record, yes, I've also subsequently seen One Day in September). In that film, MacDonald recreated a climbing accident that involved only three characters, but was able to make it terrifying and gripping. In State of Play, MacDonald has a slightly different, and perhaps more difficult, task: Making the pursuit of information into a suspenseful endeavor. For the most part, I think MacDonald succeeds. The film impresses upon you the wide implications of the original murder and as the journalists are engaged in getting to the bottom of things, you feel their urgency too. Despite being pared down from a 6-hour miniseries, I found State of Play to be deliberately paced, as the importance of each bit information is slowly revealed. Nonetheless, it was refreshing to see a thriller take its time, building the characters little by little, putting together its puzzle piece by piece.
With talent the likes of Matthew Michael Carnahan, Billy Ray, and Tony Gilroy working on the sceenplay, the twists and turns do not disappoint. The plot is intricate but rarely confusing and leaves the viewer guessing at the truth until the end. While the resolution is appropriately satisfying, the way the plot threads are tied up in the film most likely render State of Play a one-time-viewing film only. Still, it is one fantastic viewing.
More interesting than the storyline or even the performances (for those wondering, Ben Affleck acquits himself well, although not much is asked of him) is the film's thesis about newspaper journalism, which is so heavy-handed that it occasionally borders on preachy. While the fifth season of The Wire mostly depicted journalism run amok as a way of illustrating the importance of newspapers, State of Play matter-of-factly shows the type of newspaper journalism that potentially has a substantial impact on our polity and public discourse. Putting aside Cal's questionable connections with Collins and his wife, the journalists in the film employ the tools one has come to expect from the archetype of the perfect journalist: They work around the clock and call upon crucial sources that have been nurtured through many years of work; they value facts over sensationalism; and above all, they seek to get the truth out to the public. The public is best served when the truth is revealed, the film seems to be saying, especially when these truths in some way involve publicly-elected civil servants. In the meantime, the newspaper's editor (Helen Mirren) screams down from above that their corporate overlords are demanding more papers be sold, perhaps at the expense of hard-hitting coverage.
In a sprawling article for The New Republic (a must-read for anyone concerned about the state of journalism in America) Paul Starr lays out a convincing case for what the death of newspapers will do for our democracy. In short, Starr argues that digital media is ill-equipped to replicate the brand of journalism that has long been practiced by national papers (like The New York Times) and local papers (like The Baltimore Sun) alike. Among the facts Starr cites:
A study in The Journal of Law, Economics, and Economics has found that the higher a country's "free circulation of daily newspapers per person," the lower it stands on the World Bank's "corruption index."
The number of reporters covering state governments as a full-time job has dropped precipitously, from 543 in 2000 to 407 in 2007, and will most likely be much lower in the next survey to be released. According to Starr, "That is a lot fewer pairs of eyes to keep watch over state agencies."
Two-thirds of news executives in 2008 said they've recently reduced space for foreign coverage in the previous three years, many of them shutting down foreign news bureaus.
In other words, our newspapers are dying, and the elements of newspapers that we as citizens need more today than ever (i.e. those that hold the government accountable, or help to provide international context for American actions) are also on the ropes. Furthermore, these are elements that, for the most part, can't be replicated at online-only outlets. Newspapers spend like crazy, deploying teams of journalists to cover stories and churn out articles for weeks at a time. This public service, once subsidized by the likes of classified ads and advertising, is quickly become unsustainable with the advent of forces like Craigslist and the depressed economy, and we'll be worse off when it's gone.
The tensions between old media and new media are quickly brought up in the first few minutes of the film, when Cal responds frostily to Delia-the-blogger's request for assistance. While their predictable friendship develops a bit too quickly for my tastes, it represents a utopian vision whereby the newer generation of online journalists will recognize that there's more to reporting than throwing up a quick blog entry about what a Starbucks barrista saw a senator wearing that morning in the coffee shop.
But that's precisely what type of vision it is: Utopian. This film shows what is possible when a group of journalists collaborate and deploy vast resources to break a story that has implications for every American. I rooted for everyone sitting around the Washington Globe newsroom table, as they puzzled over disparate pieces of information and tried to put together what it all meant. But as every passing day brings news of more newspaper closings in reality, the film's story and premise seem wistful and longing. As the film's final, iconic shot closed out the adventure, I felt that the movie's message came as too little, too late. In the end, State of Play is a great thriller and one that's worthy of attention. But more than anything else, it's a love letter to newspapers, and a tribute to an era of journalism that may soon be coming to an end.
/Film Rating: 8.5 out of 10
David Chen can be reached at davechensemail(AT)gmail(DOT)com. You can also follow him on Twitter or Tumblr.