New Inglourious Basterds Footage And Behind The Scenes Clips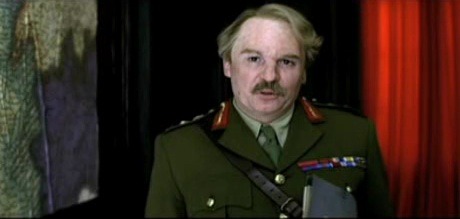 Nobody seems too happy about Quentin Tarantino being a guest mentor on American Idol last night, but me – I'm absolutely ecstatic. I'm not in The States, so I didn't have to see the show but I can reap the rewards remotely. This morning, Film School Rejects have posted an Inglourious Basterds video that was supposed to air on Idol last night and, sort of, did. A bit. Before getting cut off. Thanks to them, we have it for you below the break.
The video contains new trailer-y shots, and the odd bit of behind the scenes footage. There's more Brad Pitt, there's more general Basterdry, there's the first look at Mike Meyers in prosthetics-slash-character as Ed Fenech, a British General. You'll see Tarantino and DP Robert Richardson before a shot is taken, and then afterward hear Tarantino leading the cast and crew in a bit of call and response. "Let's do it one more time. Why?" he calls, and then they 'all' join in with a chorus of "Because we love making movies." Hmmmm.
I'm 99% convinced that this film is going to be the best studi0 funded film of the year – at least as far as live action goes. The script was outstanding, Tarantino is a true poet in the language of cinema, and the trailers so far released – the teaser, and this thing – have both put me into rewind and replay frenzy.
I'm now expecting a new, full trailer to be unveiled soon with this new footage incorporated.