New Brothers Bloom Poster Has Identity And Design Crisis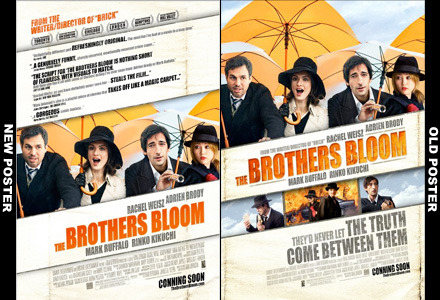 The new poster for Rian Johnson's The Brothers Bloom is much like the new trailer — Summit has basically added a bunch of critic quotes. The big problem now is that the new poster doesn't really tell you much about the tone, genre or story. The poster features a photo of a bunch of actors holding white and orange colored umbrellas, an image that doesn't immediately convey "quirky conman comedy". Not that I loved the older poster, but at least it featured shots of the main stars with packs of money, guns, and even a car explosion. Unable to explain what the movie is about visually, they have added an overwhelming wall of text quotes.
I really loved this film when I caught it in September, and have been dying to see it again. I really hope it finds an audience, but you never know with a poster like this. I would have much rather seen a Hollywood-ized version of Zach Johnson's poster. Check out the new poster in larger resolution after the jump.