New Flash Gordon Film Intense, Gritty, Real; Creature From The Black Lagoon 'PG-13 Scary'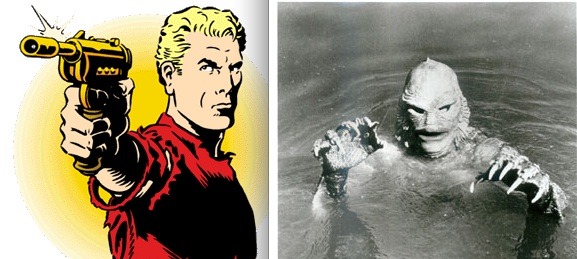 Breck Eisner is currently hard at work on his remake of George Romero's The Crazies. Seems like a tough gig – the original film really is something very special and it will be pretty hard to compete with it. Eisner's obviously happy to tackle remakes, however because both of his potential next projects have seen the silver screen before.
Firstly, there's a new Creature From the Black Lagoon. One draft of that script was done by Gary Ross, which is pretty encouraging, and I'm definitely intrigued – particularly if it gets shot in 3D, as per the original. And then, and probably more likely to roll first I'm guessing, is a new Flash Gordon film. Talking to Arrow in the Head, Eisner has laid down his ideas on what the films need.
The thing about Flash is, you've got to throw away the 80s version of it. I want it to be intense, agressive, gritty and real. For me it's about reinventing Flash – we're still staying true to the adventure origins of it, and the adventurous spirit in that movie, absolutely. It's this man brought to another planet and uniting the disperate groups on Mongo, but there is a gritty, intense, dynamic, active quality to the movie. Very modern. It's not camp.
I'm a fan of Mike Hodges' 80s film. It's one of the closest things to a traditional British pantomime I've ever seen on the big screen (all it needs is somebody in drag, a few songs and a basket of sweets being thrown into the audience). All the same, it's no more sacred than anything else, which is to say not sacred at all, and a new version is all good with me providing that, you know, it's... er... actually all good.
Eisner is expecting a draft of the script when he wraps Crazies. Instead of playing favourites, he says that he's going to puch both Creature and Flash forward to see which one is picked up first. As I said, my money is on Flash – partly because it hasn't already gone around and around in development with Eisner in the way Creature has, and partly because it seems a little bit more of commercial prospect. On that front, both films are likely to net PG-13 ratings. Eisner says of his plans for the film:
I want it to be scary. It's a bigger movie, so it's not an R rated scary, it's gonna be a PG-13 scary. Creature takes you to a place you've never been before, it's one of the last untamed places on the edge of the Earth where you find this creature that has been living and hiding there forever, basically. It's definitely going for a dark adventure tone, but I want it to be scary.
I can envision a day in which 99% of all studio fare is PG-13 rated. There's nothing wrong with a PG-13 film, of course, but I'm angry that this artistically irrelevent condition is becoming a crucial part of the design to the studios. Is money also at the root of all blandness?