Page 2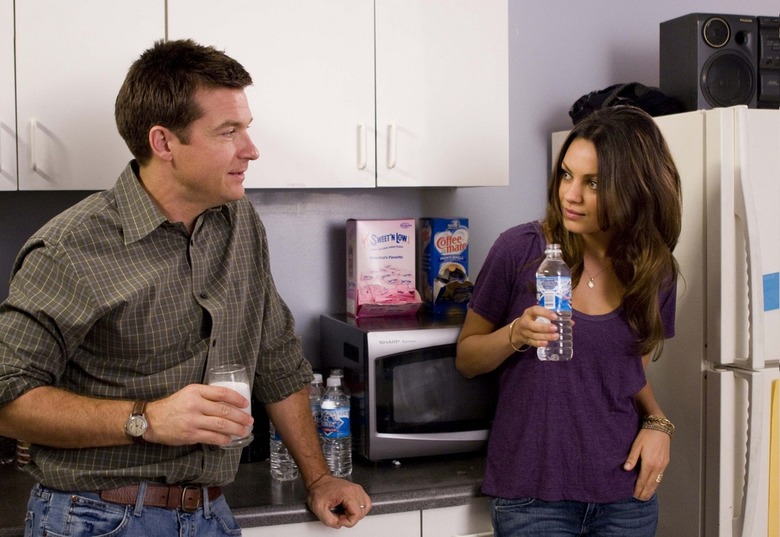 Miramax Films has released a new photo featuring Jason Bateman and Mila Kunis from the Mike Judge comedy Extract.
Listen to a 50-minute radio interview with Up director Pete Docter on Utah's KUER.
A new domestic trailer for Harry Potter and the Half-Blood Prince will be attached to 17 Again, which comes out this Friday. But you can watch it online sometime around 6pm pst on Thursday.
Read more stories that didn't make the /Film front page after the jump in Page 2.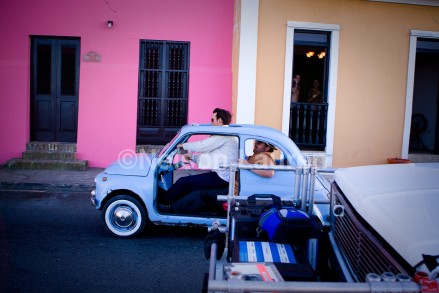 Nelson L sent in some photos of Johnny Depp riding a car from the Old San Juan, Puerto Rico set of The Rum Diairy. [flickr]
Producer Frank Marshall tweets "We are doing a 4k scan with extensive dirt and scratch cleaning of SIGNS for the HD cable airdate and future Blu-Ray release..."
Did you know: Criterion actually has a DVD to Blu-Ray upgrade program? They will upgrade any available disc by mailing a $20 check along with the original dvd.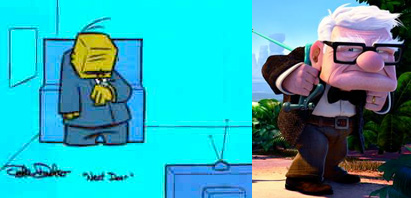 The Pixar Touch points out that Up director Pete Docter's Student Academy Award winning short film titled Next Door, also featured a square headed man and an annoying child.
Funny Tweet of the Day: Diablo Cody tweets "They are also tearing up the Central Park set next to my office. I feel like I am watching a cheap, Sweded version of Cloverfield."
Michel Gondry gives ComingSoon an update on The Green Hornet: "Seth [Rogen] and Evan [Goldberg], they are the writers, but they really listen to my ideas on the movie. I think the story is getting much better and better and I feel like I'm really a part of the process."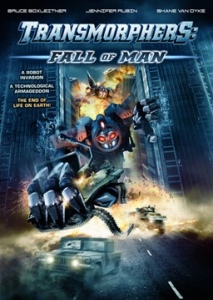 Rob Zombie has posted a new photo from the Halloween sequel H2, where Weird Al cameos in a scene where Dr. Lomis appears on the television show The Newman Hour. [MySpace]
The Asylum will release a sequel to their Knockbuster Transmorphers, titled Transmorphers: Fall of Man, on June 30th 2009, just in time for Transformers: Revenge of the Fallen to hit theaters. You can see the poster/cover art to the right.Rumor has it that Chasing Amy will be released on Blu-ray on August 4th 2009. Kevin Smith recorded a commentary track for the release on Monday.
Ughhhhh... Quentin Tarantino will be the celebrity guest mentor on American Idol this week. [Access Hollywood]
Los Angeles film production is down 56% in the first quarter of 2009. [THR]
Porn star Marilyn Chambers died Sunday at her Canyon Country home in California at age 56. [USA]
/Gamer posted the full trailer for the Terminator Salvation video game.
Magnolia has picked up Bobcat Goldthwait's World's Greatest Dad, and plans to release the movie on demand and theatrically in August. I saw and loved this film at Sundance. Seek this one out! [thewrap]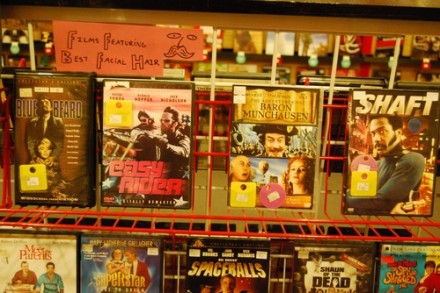 I wish my local dvd rental store had a section highlighting the "films featuring best facial hair." [dailywhat]
The United States Postal Service will be releasing a series of stamps based on The Simpsons on May 7th 2009. You can preorder them now.
Moviehole reports that Tara Reid will reprise her role as Vicki Lathum in the nextdirect-to-dvd sequel, American Pie: Book of Love.