Zac Efron Confirmed For Johnny Quest? Film To Be Retitled?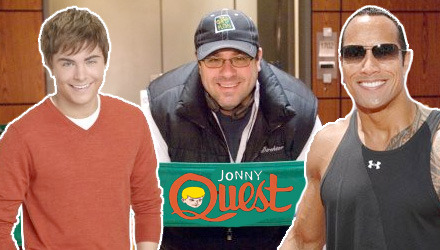 After months of rumors, Hero Complex has confirmed that Zac Efron has signed on to play the title lead role in a big screen live-action adaptation of Johnny Quest. If that doesn't get you angry, the following bit might be just enough to get your blood boiling. According to Boucher, Warner Bros wants to change the title to something other than Johnny Quest entirely, in hopes to prevent another Speed Racer.
Because we all know that Speed Racer failed at the box office because audiences were turned off by the film's title, right? Oh wait... That wasn't it all all, was it? May be it was because the  main audience of the Wachowski Brothers, teenagers and adults, were turned off by the prospect of a 135-minute kids film, and kids thought it looked more goofy than cool. Either way, I don't have much faith for this big screen adaptation with, or without the Johnny Quest title.
The original Hanna-Barbera produced sci-fi animated tv show followed an eleven-year-old boy who accompanies his father on extraordinary adventures. And the new film will star a 21-year-old boy named Zac Efron? Also, Dwayne "The Rock" Johnson has been said to be in talks to play Race Bannon, Johnny's special agent bodyguard.
And Andy Fickman might helm the project... you know, the guy who directed the Amanda Bynes teen romcom She's The Man, the family sports comedy The Game Plan, and lets not forget about the painful to watch action from the Race to Witch Mountain remake. To be fair, I did enjoy Fickman's earlier film Reefer Madness, and an earlier draft of the Johnny Quest script was listed on last year's Black List, which is basically a list of the best unproduced screenplays in Hollywood. I just think a Johnny Quest movie has the potential to be more than the middle of the road action comedy that the studios are liekly to produce.