Cool Stuff: Eric Tan's Indiana Jones And The Last Crusade Poster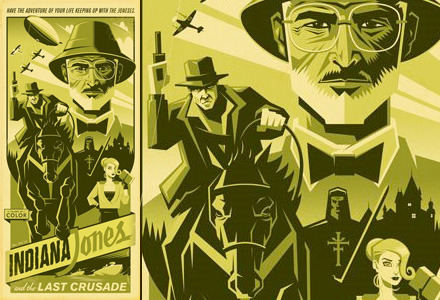 We've featured many of artist Eric Tan's creations in past Cool Stuff columns: we've spotlighted his work for past Pixar productions, X-Men, among other things. Tan has been creating a series of posters for the Indiana Jones film series. You can see his Raiders of the Lost Ark and Temple of Doom posters in our linked Cool Stuff articles. His latest poster if for the third film in the original trilogy – Indiana Jones and the Last Crusade (a film title which use to be really clever because it meant two different things at the same time... use. to. be.) See the full poster after the jump.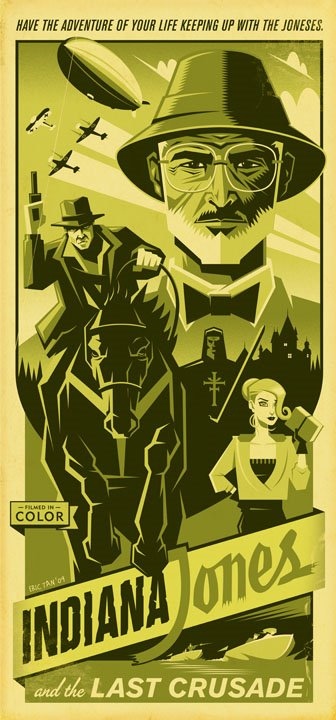 Tan writes:
"With the Crusade poster, I also tried to keep the series consistent with a lot of the same criteria I used in the 1st couple of posters. Among them include the limited color scheme, the big head at the top right, the chase scene on the bottom right, the logo down below, the filmed in color banner, and a background silhouette of one of the key settings. I wanted to play up the love connection between the Joneses and Elsa because it plays an important part of the plot so Indy and Elsa are almost equal in scale and you can also make a visual "triangle" between the three characters. Because it's my favorite on the Indy series of films, I really wanted to get as much as I could into this one. The story is dense and so is this poster in comparison to the previous two."
Tan even posted his early concept sketch he created for the poster: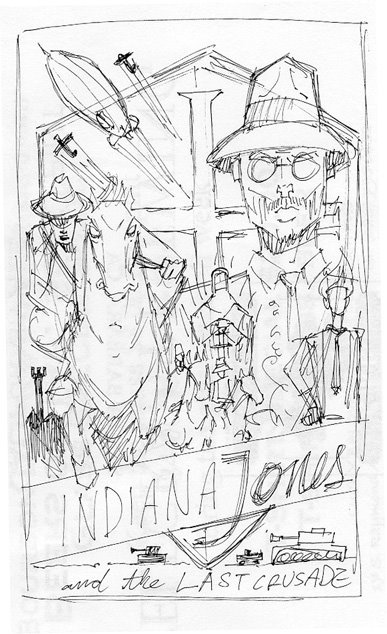 A Giclee Print of the poster will eventually be made available though Acme Archives. Tan's Temple of Doom print is still available for $150.
Cool Stuff is a daily feature of slashfilm.com. Know of any geekarific creations or cool products which should be featured on Cool Stuff? E-Mail us at orfilms@gmail.com.