BOOM!! - The Real Michael Bay Has Joined Twitter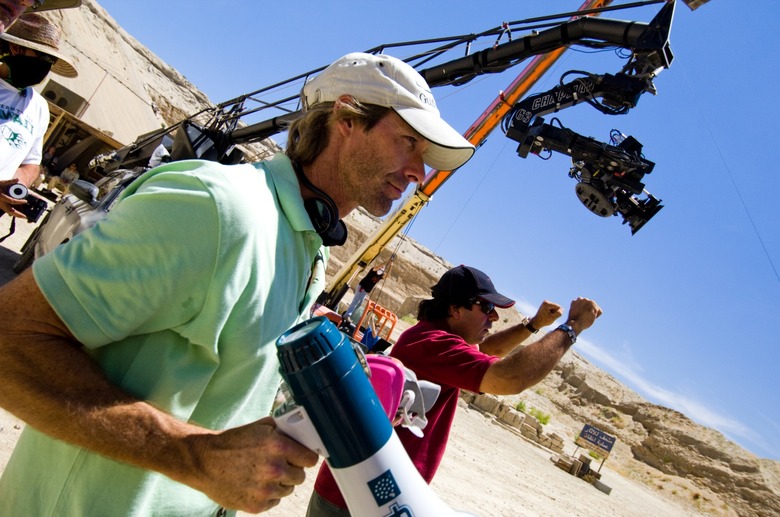 Update: Michael Bay is not on Twitter, the account turned out to be fake.
Finally sick and tired of Fake Michael Bay, the real Michael Bay has finally joined Twitter.
"I am tired of impostors on Twitter so I figured you could get the real bay direct from now on."
Actually, he joined sometime last month, but almost no one has noticed. While Kevin Smith is nearing the 300,000 follower mark, Michael Bay (as of this writing) only has 229 followers. I'm sure that will change real soon as word spreads around the film websites. On a side note, it also appears that Fake Michael Bay's account has been reset (followers and tweets all gone), which I'm sure might somehow be related to the real Bay's arrival on the microblogging platform.I'm not sure if Bay is updating his Twitter account himself, or if he's having an assistant do it for him, but each tweet is signed "- Mike".  At first I thought the account was fake, because he is following admitted Twitter impostor accounts for Shia, Megan Fox, and a confirmed-fake JJ Abrams twitter account. I've since confirmed that the account's legitimacy through Bay's webmaster Nelson. But the fact that Bay can't tell the fake Shia and Megan from the real actors that he has worked with on a couple films is kinda funny.Michael's latest tweet is a big tease:
"

Some big news is coming down the pipeline, can't say what or when but be excited."
Other tweets include: "Working in the industry means even weekends are apt for making robots interact" and talking about the Nightmare on Elm Street remake he is producing: "On the phone with Samuel Bayer, He definitely has some awesome ideas for the series." and "excited for what Jackie Earle Haley will bring to the franchise."
And while you're at it, follow me @slashfilm.