Terminator Salvation Concept Art Reveals Post Apocalyptic San Francisco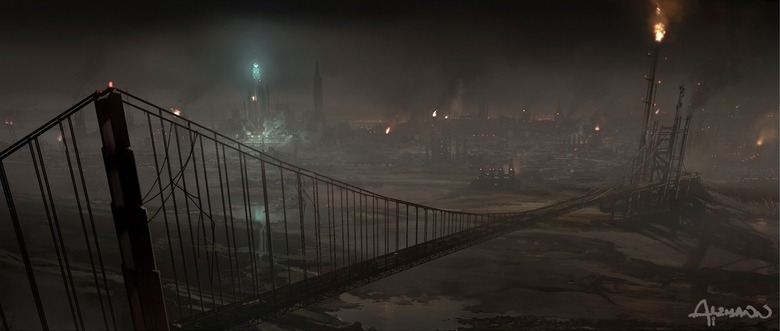 Sarah Connor Society has gotten their hands on some new concept art from Terminator Salvation.
The beautiful concept paintings by ILM artist Christian Alzmann and visual effects art director Warren Fu includes a big Hunter Killer aerial unit called a Transporter, a different variation of the big robot terminator we've seen in the trailers – The Harvester, the mototerminator, and a scale comparison of the robot's arm up against a human. But most interesting is our first look at SkyNet. You've seen the futuristic San Francisco in the Star Trek trailers.... Well, McG's San Francisco is a 180 degree turn from JJ Abrams' vision of the future.
I wish they would offer some of this concept art in Giclee prints. I would totally buy a print of the above Golden Gate Bridge painting. More Images after the jump.