Box Office Tracking: Hannah Montana And Observe & Report Could Lift Easter Weekend To An All-Time Best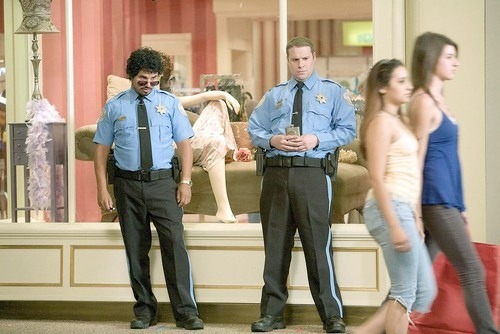 Easter weekend 2009 will almost certainly be an all-time record-breaker for Hollywood with a pair of new releases that could be among the top six bunny holiday openings of all time. Although neither Hannah Montana: The Movie (Disney) or the new R-rated comedy Observe & Report (Warner Bros) will challenge 2006's all-time Easter weekend opening champion Scary Movie 4 ($40.2M), both new offerings look very solid in pre-release industry tracking, and they will be joined by some strong holdovers.
Universal's Fast & Furious is likely to cross the finish line first for a second consecutive weekend, following up last weekend's almost $71M with about $30M, which would mark a 58% drop. Still, it must be considered a triumph that the re-teaming of Vin Diesel, Paul Walker, Jordana Brewster and Michelle Rodriguez may have $120M in US sales after just 10 days. That will mean that Fast & Furious will have almost doubled the domestic gross of The Fast & The Furious: Tokyo Drift (the last film in the franchise), and this souped-up thrill ride could be headed for $160M US.
The likely second-place finisher this weekend will be Hannah Montana The Movie, which has far less sizzle than Miley Cyrus' 3-D concert movie last year. 2008's Hannah Montana/Miley Cyrus: Best of Both Worlds Concert Tour was promoted as a one-week-only motion picture event and benefited from a 3-D upcharge, delivering a stunning $31.1M last February 1-3. This Miley movie will perform well, but it doesn't appear to be a sensation-in-the-making.
Make no mistake. Miley Cyrus is an industry, and business is booming. Only four years ago, she was known merely as the 12-year-old daughter of the guy who sang Achy Breaky Heart. She auditioned for the role of "the best friend" in a new series being developed by The Disney Channel about an ordinary teenager who is secretly a pop star. Instead, she won the lead. Within a year of the debut of Hannah Montana, she had two albums that debuted at #1 on Billboard's album charts. Then came the Best of Both World's Concert Tour and 69 sold-out arena dates across North America.
Her new movie directed by Peter Chelsom, who has directed actresses like Diane Keaton in Town and Country ($6.7M cume) and Jennifer Lopez in Shall We Dance? ($57.9M cume), seems headed to an Easter weekend opening in the mid-$20M's. I'm calling for $24.6M and a second-place finish.
Monsters Vs. Aliens 3-D should continue to play strongly with family audiences, possibly dipping by as little as 36% to a possible $21M and a #3 finish. MVA will likely be just shy of $140M in the US by Monday.
The new Seth Rogen comedy and and the second "mall cop" movie of 2009 – could finish fourth. Observe and Report is written and directed by Eastbound & Down writer/creator Jody Hill (who appeared as an actor in Superbad). This movie is apparently just as edgy as Hill's over-the-top raunchy series, but it has a 61% Fresh score on Rotten Tomatoes.
Still, it sounds like it's not for everybody, based on this review from Rick Mele from AskMen.com. "Unlikable characters, gratuitous male nudity, a dry and sometimes nihilistic sense of humor — there are moments when you can't believe they got away with this, at a major studio no less." I've learned not to underestimate these male-skewing, Apatow-style comedies, and this one seems to have a $20M target or maybe just shy of that mark ($19.5M).
A third new release Dragonball: Evolution (Fox), based on Akira Toriyama's wildly popular manga, could reach the low teens, skewing to Males Under 25, particularly tween boys. Several animated versions of the show have appeared on The Cartoon Network, so there is an audience, although the new live action film's 23% Fresh score on Rotten Tomatoes would seem to limit the upside to a possible $10.7M by Monday.
My predicted numbers for the weekend top ten are for $126.4M. If Hollywood hits that number, it will be the biggest-grossing top ten Easter movies ever (by a lot), surpassing the 2002 Easter weekend, which was led by David Fincher's Panic Room starring Jodie Foster.
ALL-TIME BIGGEST GROSSING EASTER WEEKENDS
- totals are for the top 10 films for the holiday 3-day -
1. 3/29/02 – $108.8M [#1 – Panic Room - $30M]
2. 4/14/06 – $107.08M [#1 – Scary Movie 4 - $40.2M]
3. 4/06/07 – $104.5M [#1 - Blades of Glory - $22.5M]
4. 3/21/08 – $94.65M [#1 - Dr. Seuss' Horton Hears A Who! - $24.6M]
5. 4/07/04 – $87.9M [#1 – Passion of the Christ - $15.2M]
6. 3/25/05 – $86.8M [#1 – Guess Who - $20.6M]
7. 4/18/03 – $83.8M [#1 – Anger Management - $25M]
8. 4/02/99 – $72.7M [#1 – The Matrix - $27.8M]
9. 4/21/00 – $70.3M [#1 – U-571 - $19.5M]
10. 3/28/97 – $69.9M [#1 – Liar, Liar - $25.4M]
FINAL PREDICTED BOX OFFICE FOR APRIL 10-12
1. Fast & Furious (Universal) – $30M
2. NEW – Hannah Montana The Movie (Disney) – $24.6M
3. Monsters vs. Aliens (Dreamworks/Paramount) – $21M
4. NEW – Observe & Report (Warner Bros) – $19.5M
5. NEW – Dragonball: Evolution (Fox) – $10.7M
6. The Haunting in Connecticut (Lionsgate) – $5.1M
7. I Love You, Man (Dreamworks/Paramount) – $4.9M
8. Knowing (Summit) – $4.8M
9. Adventureland (Miramax) -$3.4M
10. Duplicity (Universal) – $2.4M