Liam Neeson And Ralph Fiennes Cast In Clash Of The Titans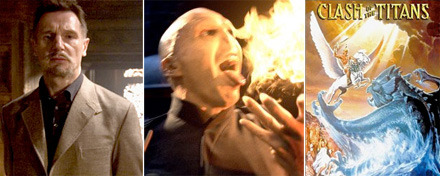 Liam Neeson and Ralph Fiennes have been cast in Louis Leterrier's Clash of the Titans. Neeson will play Zeus, king of the gods, a character played by Laurence Oliver in the 1981 film. Sam Worthington is already on board to play his son, Perseus. Fiennes is in talks to play Hades, the ruler of the underworld who is on a mission to overtake Zeus.
Neeson and Fiennes join the already announced cast of Mads Mikkelsen (Draco), Gemma Arterton (Io) and Alexa Davalos (Andromeda). The screenplay was penned by screenwriting legend Lawrence Kasdan, you know, the guy who wrote Empire Strikes Back and Raiders of the Lost Ark.
The original Desmond Davis film was an adaptation of the myth of Perseus which told his quest to battle both Medusa and the Kraken monster in order to save the Princess Andromeda. The movie is famous for its use of Ray Harryhausen's stop motion animated creatures.
source: THR