Warner Bros. Place Ads To Warn Bollywood Against Ripping-Off Benjamin Button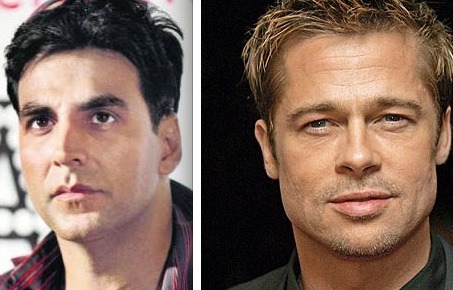 According to a piece in the New York Times, Warner Bros. have gone so far as to place adverts in Indian newspapers and film trade publications warning against the plagiarism of The Curious Case of Benjamin Button. Of course, this isn't some wild pre-preemptive measure, with Button randomly selected as an example. In fact, as reported in the Times of India last month, there is a Hindi film in production that shares some (vague) similarities with David Fincher's sentimental potboiler.
Action Replay has been in production since mid-March with Akshay Kumar starring as a man who reverse-ages. He goes all the way from 62, back to... the age of 26. So that's one key difference already. There's a lot of other business that's clearly very different too...
From being a father, Akshay grows to be a fashionable young dude of the swinging 70s with bell bottoms and wide belts.
So far, so not Button-y at all. In fact, it sounds more like 17 Again in some respects.Akshay's co star in the picture will be non-other than Aishwarya Rai, Bollywood gold mine and perennially rumoured Bond-girl candidate. With stars this popular the film seems bound to be a smash and any risk of legal action just to rob the conceit from some puffy melodrama seems unlikely – there's no reason they won't just scribble their own puffy melodrama down ont he bag of a cigarette packet and settle for that instead.Even if there were similarities – even identicalities – between the two films, however, things wouldn't necessarily turn out the way you might expect. That's principally because Action Replay apparently isn't based upon Fincher's film at all, but a play from 1994. So, supposedly, it wouldn't be Warner Bros. with the legitimate claim, it'd be the originator of the play.Action Replay's director Vipul Shah spoke to Rediff India Abroad:
I never copy my films. I am not a DVD director. In fact, I have not even seen The Curious Case of Benjamin Button.
Plausible. Apparently, Benny Button did tank horrendously over there.
The same article reveals that a Hitch clone called Partners was recently dragged into court, but doesn't specify any outcome and, to be honest, I've seen a good handful of Hindi movies myself that were clearly inspired (ahem) by American productions. All the same, it really doesn't look to me like Action Replay is one of these and Warners' reps have jumped the gun somewhat. Here, for your interest, is all I can find of their warning, as placed on behalf of Warner Bros. by Lall & Sethi Advocates:
Warner or its co-owner has not licensed any party to remake or make any film based upon the said film and shall initiate legal proceedings against any producer found producing a film either in English or Hindi or other language.