Cool Stuff: Idiot Box Art Show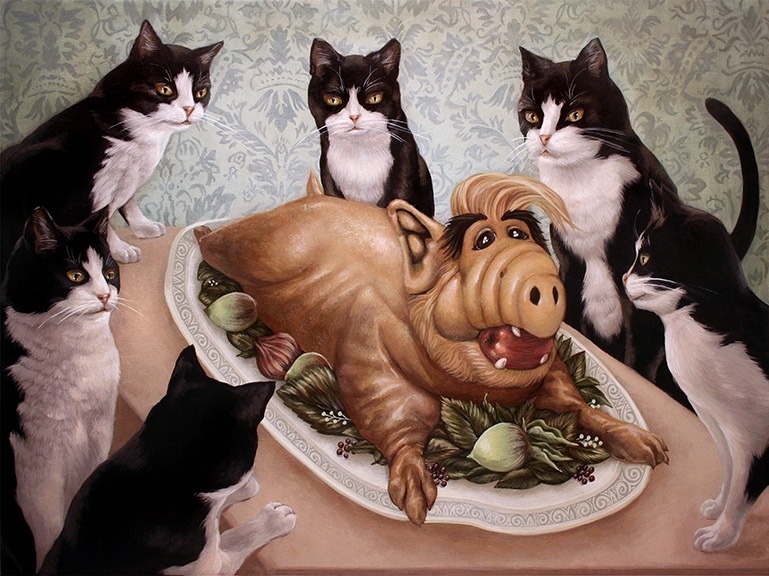 You probably remember Gallery 1988 as the Los Angeles-based art gallery which hosts the pop-culture infused Crazy4Cult show every year. We've featured artwork from their exhibitions in previous editions of cool stuff: Beastie Boys Inspired Art, Crazy4Cult 2, and Stan Lee Tribute. From April 2nd to April 23rd, Gallery 1988 is celebrating their 5th year anniversary with the Idiot Box art show. 100 Artists take aim at television's guity pleasures. I have included 15 of my favotires after the jump.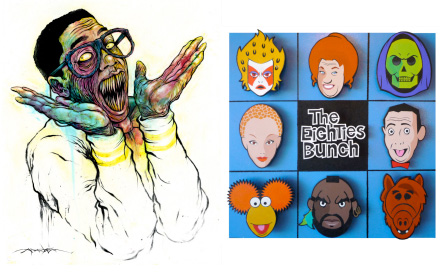 Alex Pardee
"S.Urkel Jerk"
ink on clayboard
16 x 20 inches (Framed approx. 22 x 26)
$1,000.00 – SOLD
(Family Matters)
Mike Maas
"The Eighties Bunch"
acrylic on board (some 3-D elements)
20 x 20 inches
$650.00
(Assorted Television Shows)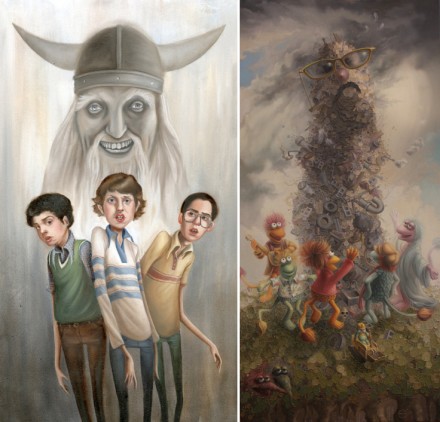 Allison Reimold
"The Geeks vs. McKinley High"
oil on board
20 x 26 inches
$750.00 – SOLD
(Freaks & Geeks)
Ewelina Ferruso
"Waa, the trash heap has spoken"
oil on canvas
16 x 34 inches, framed
$2,500.00
(Fraggle Rock)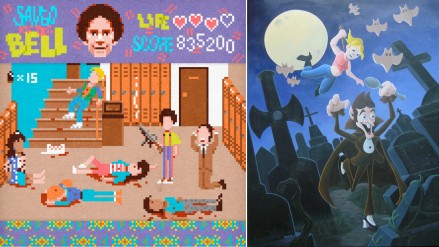 Jude Buffum
"Saved By The Bell"
giclee print on canvas, edition of 13 (12 available)
MP3 exclusive download of 8-bit Saved By The Bell" theme with every print purchase
19 5/8 x 19 5/8 inches
$200.00 unframed
(Saved By The Bell)
Chris Tezber
"The Tragic Death of Count Chocula"
acrylic on masonite
12 x 16 inches
$500.00
(Buffy The Vampire Slayer)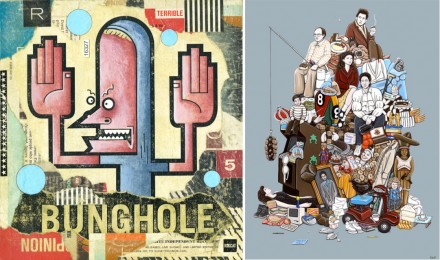 Rik Catlow
"Bunghole"
mixed media on wood
7.5 x 8 inches
$240.00 – SOLD
(Beavis and Butthead)
Kiersten Essenpreis
"Seinfeldology (AKA 99 Seinfeld references)"
flashpaint and resin on wood
11.5 x 14.5 inches
$1,500.00
For the key to test you reference knowledge, CLICK HERE.
(Seinfeld)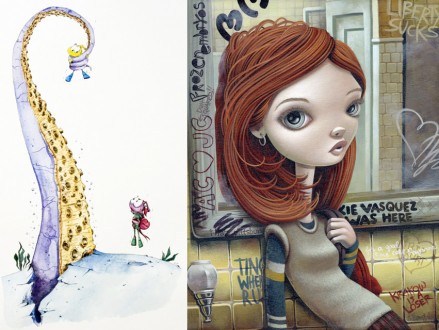 Keith Noordzy
"Play Along With The Snorks"
ink and watercolor
16 x 24 inches
$600.00
(Snorks)
Shannon Bonatakis
"In Like, My Humble Opinion"
acrylic on canvas
11 x 14 inches unframed, 16 x 19 inches framed
$1200.00 – SOLD
(My So-Called Life)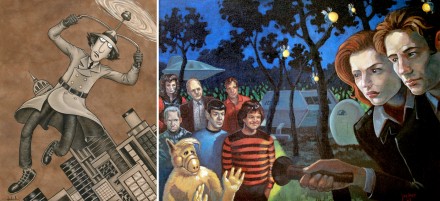 Tom Haubrick
"Go Go Gadget"
ink & wash
13 3/4 x 17 3/4 inches
$500.00
(Inspector Gadget)
Aaron Jasinksi
"The Truth Is Out There"
acrylic on canvas
18 x 24 inches
$950.00
(X-Files and Assorted Television Shows)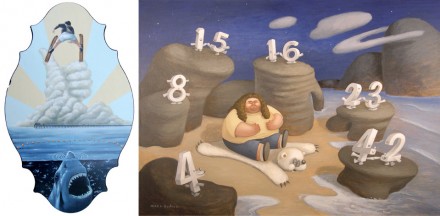 Ryan Sanchez
"Happy Days"
12 x 20 inches
acrylic and oil on wood
$950.00
(Happy Days)
Mark Bodnar
"4 8 15 16 23 42"
acrylic on canvas
25 x 35 inches
$2,800.00
(LOST)
See all the art work from the Idiot Box art show on idiotbox88.blogspot.com .
Cool Stuff is a daily feature of slashfilm.com. Know of any geekarific creations or cool products which should be featured on Cool Stuff? E-Mail us at orfilms@gmail.com.